This is a truly perfect lemon tea cake that's exceptionally moist, tender, delicate, and bursting with lemon flavor. It's topped with a sticky lemon glaze that you won't be able to resist!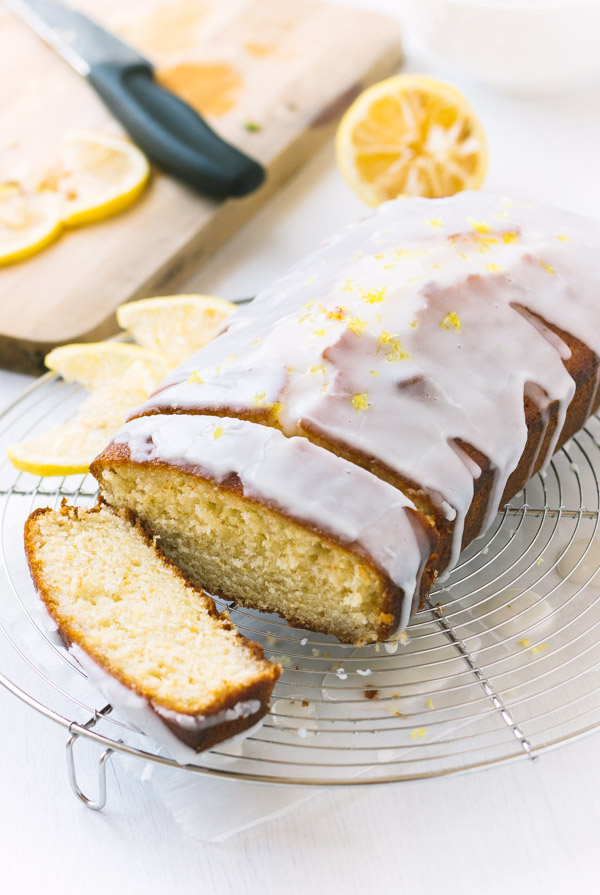 Tea cakes and loaves can sometimes be dry and flavorless. I've tried so many like that before, and it's always a disappointment. I have found, though, that when using lemons, it's much easier to make a flavorful cake with a perfectly moist and sticky texture. The delicate yet pronounced flavor of lemon, combined with a syrup that soaks into the cake after baking, is what takes this classic tea cake to a whole new level.
When I first started working with this recipe, I had 2 options in mind. The first would be making a moist cake with a strong lemon flavor and topping it with the traditional white glaze. The second would be making a drier cake, then soaking it with a lemony syrup to moisten it and give it more flavor. Eventually, I decided to combine both choices (hey, I like things done perfectly). The syrup adds a true lemon flavor to the cake since, even if you add lots of lemon to the batter, the heat from the oven will mute it. The syrup also moistens the cake wonderfully and will help it to keep longer. Then there's the lemon glaze that adds another sticky texture with a delicate lemon flavor.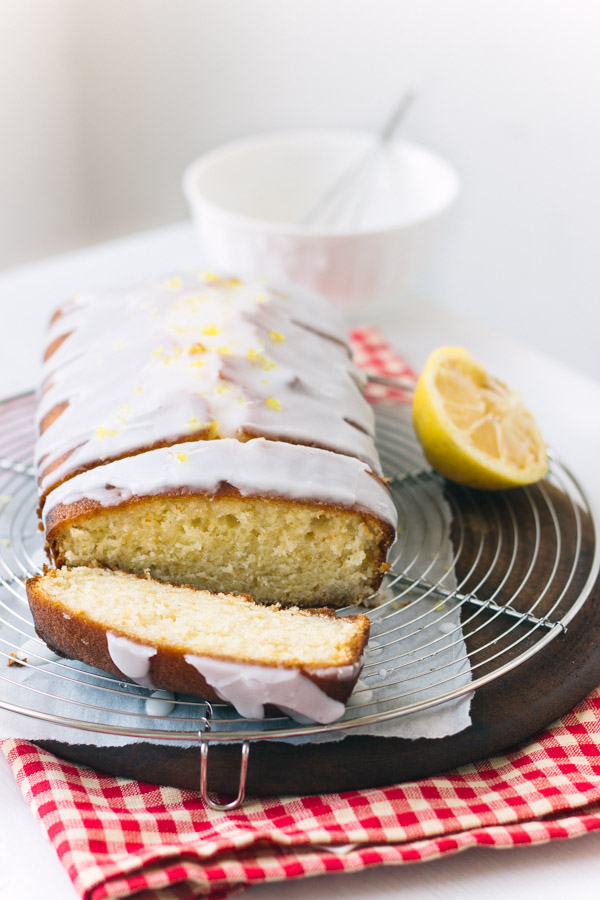 How to make lemon cake
There are 3 components to this cake:
1. Lemon cake batter
2. Lemon syrup, made by heating together sugar, lemon juice, and water. Once the cake is out of the oven, poke holes in it and drizzle the syrup over. The cake soaks up the syrup, making it moist and adding a refreshing lemon flavor.
3. Lemon glaze. This will form a sticky, hard crust that I absolutely adore on classic lemon cakes. However, since the cake will already be flavorful and amazing without it, this step is OPTIONAL.
For this cake, I use the creaming method. Simply mix together butter and sugar until creamy, then add eggs, dry ingredients, and liquids. Creaming the butter and sugar creates air pockets which are filled with steam during baking, creating more volume and a lighter, more delicate texture.
Pro tip: Mixing sugar with lemon zest is my little trick for bringing out lemon flavor in baked goods. When grating the zest, make sure you grate only the yellow part, and not the bitter white pith beneath it. Then, toss with the sugar. While tossing, the lemon zest will release its natural oils, which will absorb quickly into the sugar. This way, the lemon flavor will evenly distribute throughout the batter.
Liquids and substitutions
I like using buttermilk for this cake since it makes it tender with a slight tang. When I don't have buttermilk on hand, though, I use whole milk or even heavy cream for a richer flavor. If you make this substitution, omit the baking soda and increase the baking powder to 1 teaspoon instead of 1/2.
Replacing the buttermilk with sour cream is another option (the baking soda and powder will remain the same as the original recipe).

You can also make a buttermilk substitution at home. Take a measuring cup and pour in 1 tablespoon of white vinegar or fresh lemon juice. Add milk until it reaches one cup. Stir and let sit for 5 minutes. It will look curdled and that's fine.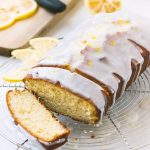 Perfect Lemon Cake
Moist and tender lemon cake soaked with a sweet, lemony syrup and topped with an amazing lemon glaze.
---
Ingredients
Cake:
1 1/2

cups

(200g) all-purpose flour

1/2

teaspoon

baking powder

1/4

teaspoon

baking soda

1/4

teaspoon

salt

1/2

cup

(120 ml) buttermilk

(see above post for substitutions)

1

tablespoon

freshly squeezed lemon juice

1 1/2

tablespoons

grated lemon zest

(2 lemons)

3/4

cup

plus 2 tablespoons

(175 g/6.2 oz) granulated sugar

1/2

cup

(1 stick/113g) butter, softened

2

large eggs

, room temperature

1

teaspoon

vanilla extract
Syrup:
1/4

cup

granulated sugar

1/4

cup

freshly squeezed lemon juice

(1-2 lemons)

2

teaspoons

water
Glaze (optional):
1

tablespoon

lemon juice

1

tablespoon

milk

1

cup

powdered sugar

, sifted
Instructions
For the cake: Adjust oven rack to middle position and heat oven to 350F/180C. Grease an 8½ x 4¼-inch loaf pan.

In a medium bowl, sift together flour, baking powder, baking soda, and salt. In a small bowl, mix together buttermilk and lemon juice. Set bowls aside.

In another small bowl, toss together sugar and lemon zest until combined. In a standing mixer fitted with the paddle attachment, beat together butter and sugar mixture on medium speed for 3 minutes until light and fluffy. Occasionally scrape down the sides and bottom of the bowl. Add eggs, one at a time, beating well after each addition. Beat in vanilla extract. On low speed, beat in the flour mixture in 3 additions, alternating with the buttermilk mixture in 2 additions, starting and ending with the flour. Do not over mix.

Scrape batter into prepared pan and smooth the top. Bake for 40-60 minutes or until a skewer inserted into the center of the cake comes out clean. If the top is browning too fast while baking, cover pan loosely with aluminum foil.

For the syrup: While cake is in the oven, prepare the syrup. In a small saucepan, combine sugar, lemon juice, and water. Cook on medium-low heat until sugar dissolves and syrup forms. Set aside to cool.

When the cake is done, allow to cool for 10 minutes, then remove from pan and set on a wire rack. Place a tray or pan underneath the wire rack. Poke cake with a toothpick, then brush top and sides with syrup. Allow cake to cool to room temperature.

For the glaze: In a small bowl, combine sugar, lemon juice, and milk, and whisk until smooth. Add more lemon juice or sugar as necessary until you get a thick yet pourable consistency. Pour over top of cake and let drizzle down the sides. Allow glaze to set, 15-30 minutes.

Store cake in an airtight container at room temperature for up to 3-4 days or in the refrigerator for up to 5 days. Cake can be frozen without the syrup or glaze for up to 2 months. Once thawed, heat the syrup and drizzle hot over the cake, then proceed with the rest of the recipe and make the glaze.