A light and tender lemon cake made with olive oil, this simple cake is full of complex flavors. Make this lemon olive oil cake for a sweet snack or a breakfast that's worth waking up for.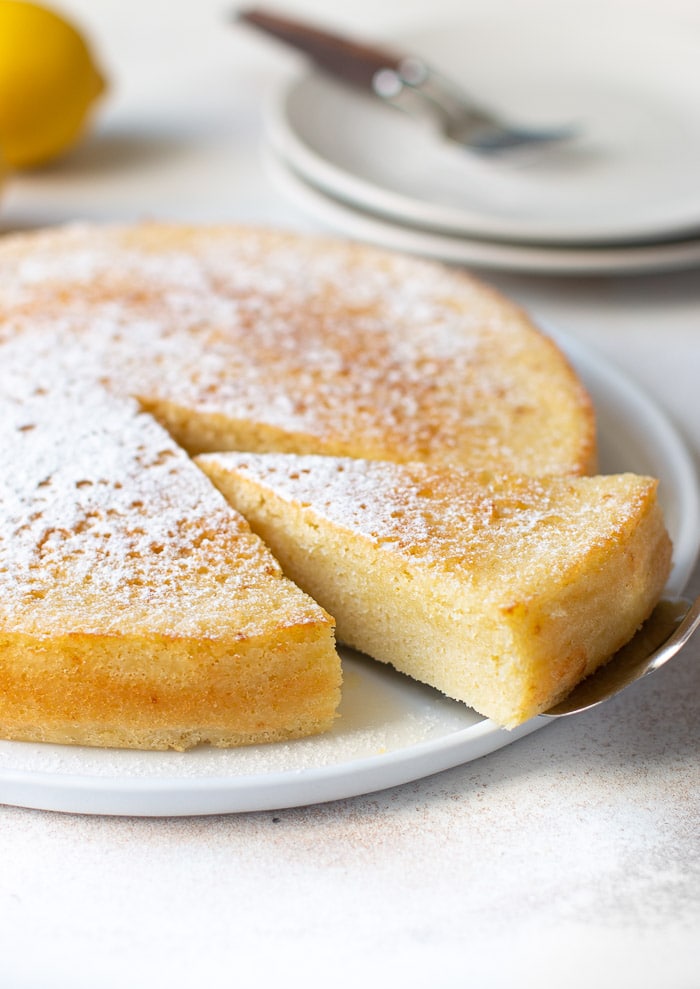 Besides chocolate, citrus is my favorite type of cake to snack on. Any day can be brightened by a burst of sweet juicy citrus with a cup of coffee. This lemon olive oil cake does that, and more, bringing superior moisture and flavor from quality extra virgin olive oil.
Olive oil isn't just for savory cooking. It's fruity flavor pairs wonderfully with zesty citrus, and it also lends extra moisture from its high fat content.
There's also the addition of butter to this lemon olive oil cake recipe. The nutty flavor of butter, paired with the fruity olive oil and lemony citrus, is a trio of complementing flavors. This cake is perfect on its own, or topped with a simple lemon glaze for decoration.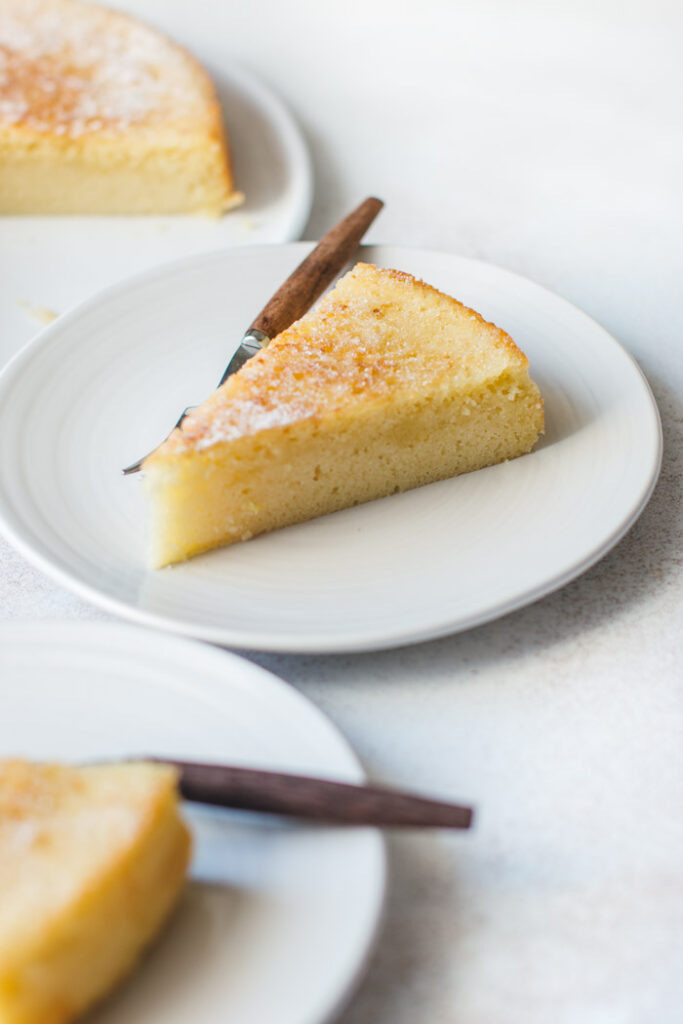 Why I Use Olive Oil
Olive oil doesn't make the cake healthy, but it does lend a tenderness to the cake that is unparalleled by other fats. Since olive oil is liquid at room temperature, it makes cakes incredibly moist, in fact they only improve with time.
It took me a while to develop this lemon olive oil cake recipe. I first tried using olive oil in cakes a few years ago, but the flavor was too strong and I put the idea aside. I decided to try again, this time using citrus to balance out the flavor, and ended up with this winning lemon cake recipe. The olive oil flavor is subtle, and it works to bring out the brightness of the citrus.
It's important to use good quality extra virgin olive oil for this recipe. Since olive oil is a prominent ingredient, you'll want to use an oil that you would dip bread in or use in dressings.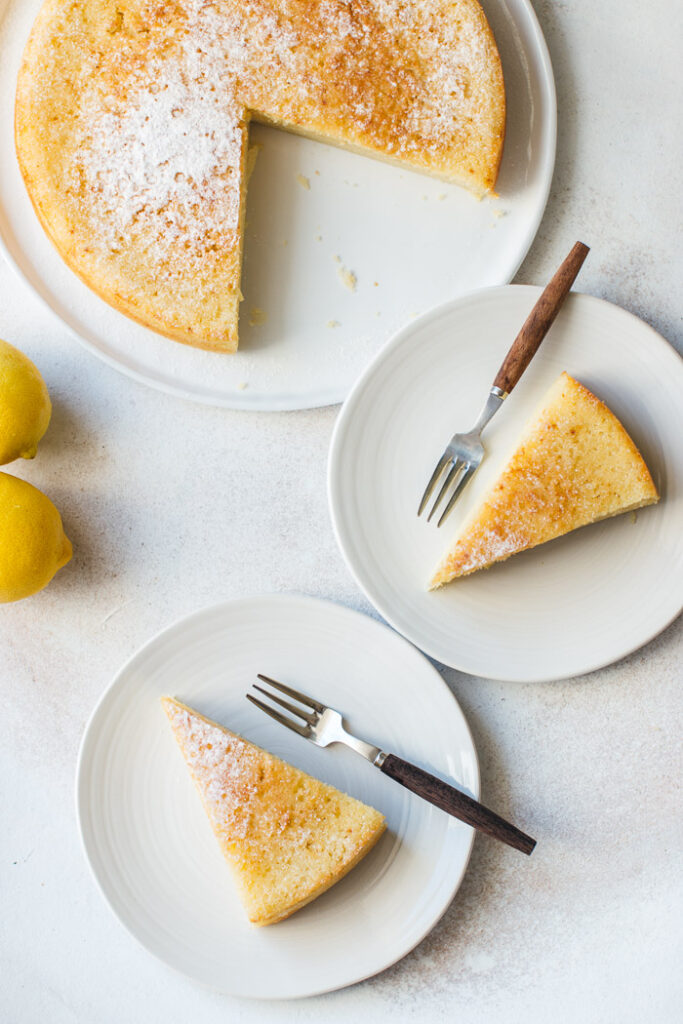 How To Make Lemon Olive Oil Cake
The first thing you'll want to do is preheat your oven to 350ºF/180ºC and grease a 9-inch round pan. Be sure to grease it well, as this cake is very moist and can easily stick to the pan. You can also line it with parchment paper after greasing. This cake isn't tall, so if you want it taller you can bake it in an 8-inch pan.
In a large bowl, whisk together your dry ingredients and set them aside while you prepare the rest of the batter.
Mix together the lemon zest and sugar, releasing the oils from the zest into the sugar. You will know this has happened once you start smelling a strong fragrance of lemon. Add the eggs and whisk until combined, followed by the olive oil and melted butter. Whisk in the lemon juice and buttermilk.
Once everything is smooth and lump-free, add the wet mixture to the flour mixture and fold with a rubber spatula until fully combined. Be very careful not to overmix the batter. This lemon olive oil cake is delicate, and overmixing the batter can result in a dense, and not tender, cake.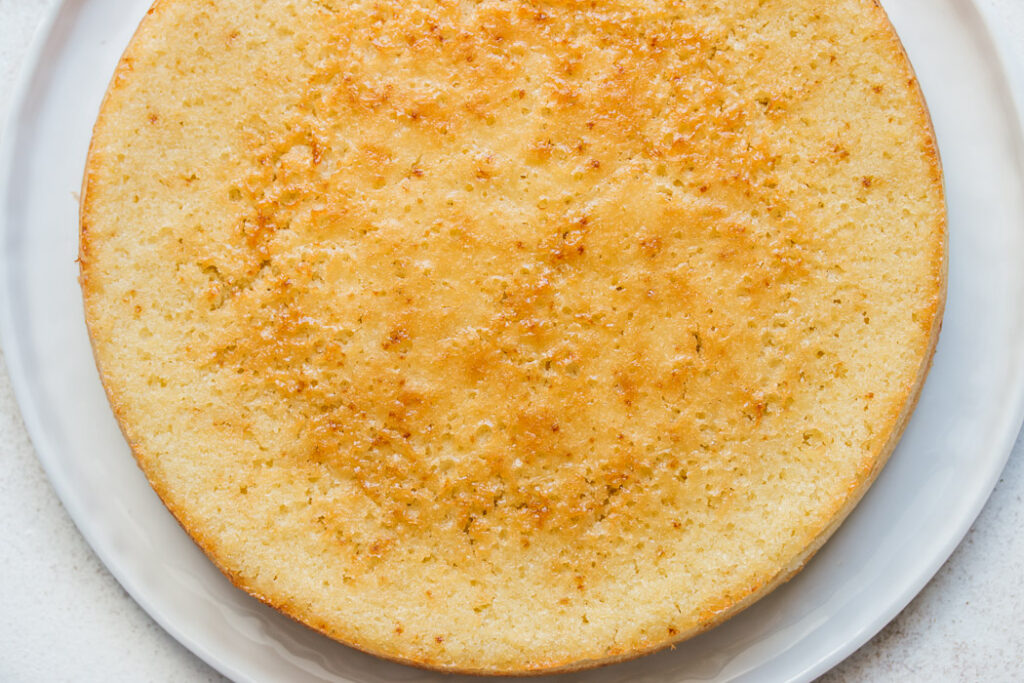 Bake the cake for 40-45 minutes, until golden brown and a toothpick or skewer comes out clean. You will need to let it cool completely, at least an hour, on a wire rack before serving. Since it is so moist, letting it cool helps the cake set and makes it a lot easier to cut into slices.
I like to serve this cake with a dusting of powdered sugar or a simple lemon glaze that I also use for my lemon loaf cake. The cake is great on the first day, but gets even more moist as it ages. It will keep well for several days, but it's never lasted that long in my family of sweet tooths!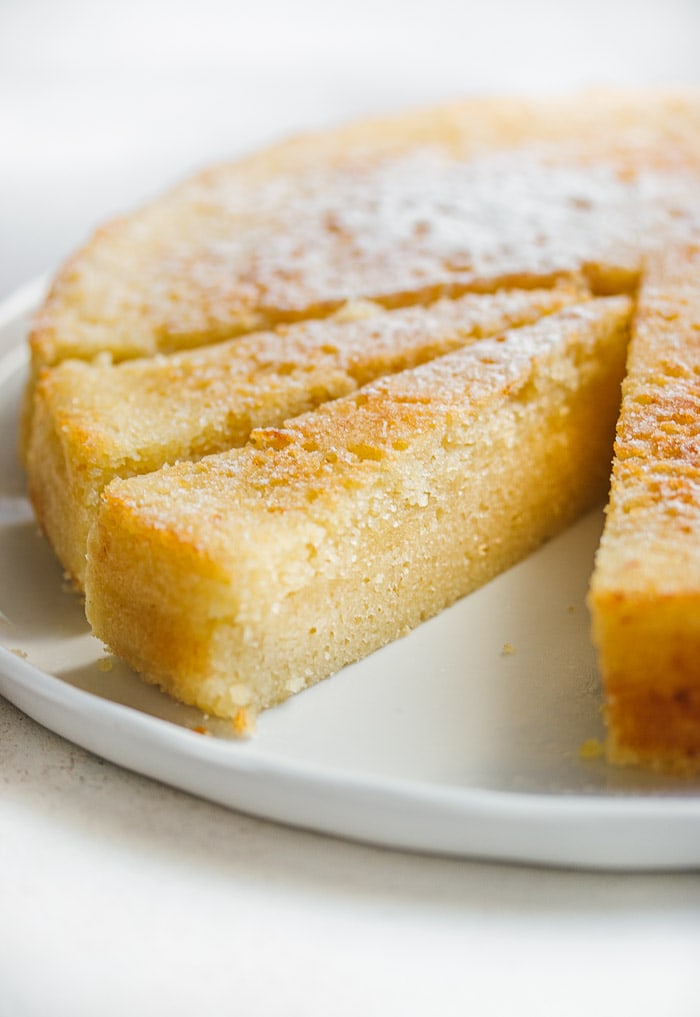 Other Lemon Recipes: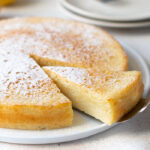 Lemon Olive Oil Cake
---
Ingredients
1 1/2

cups

(210g) all-purpose flour

1

teaspoon

baking powder

1/2

teaspoon

baking soda

1/4

teaspoon

salt

1

cup

(200g) granulated sugar

1

tablespoon

lemon zest

(about 2 lemons)

3

large eggs

1/2

cup

(120 ml) extra virgin olive oil

1/4

cup

(1/2 stick/55g) unsalted butter, melted and cooled

1/4

cup

(60 ml) freshly squeezed lemon juice

1

cup

(240 ml) buttermilk

Powdered sugar

, for dusting
Instructions
Preheat oven to 350ºF/180ºC. Grease well a 9-inch round pan (3-inch deep).

In a large bowl Whisk together flour, baking powder, baking soda, and salt. Set aside.

In a medium bowl toss together sugar and lemon zest until combined. Add eggs and whisk well until combined. Whisk in olive oil and butter. Add lemon juice and buttermilk and whisk until combined. Add mixture to the flour mixture, and fold with a rubber spatula until combined and smooth. Once all is added, be careful not to overmix the batter.

Scrape batter into prepared pan and smooth the top. Bake for 40-45 minutes or until golden and a skewer inserted into the center of the cake comes out clean. Allow cake to cool completely on a wire rack. Dust cake lightly with powdered sugar before serving.

Store cake at room temperature in an airtight container for up to 2 days or refrigerate for up to 5 days. Serve at room temperature.