Gooey, sticky, and rich chocolate pecan pie with lots of chocolate flavor and melty chocolate bits. It's less sweet than a classic pecan pie thanks to the bittersweet chocolate and a reduced amount of sugar. This is a delicious twist on traditional pecan pie and will be the perfect dessert for chocolate lovers around the holidays.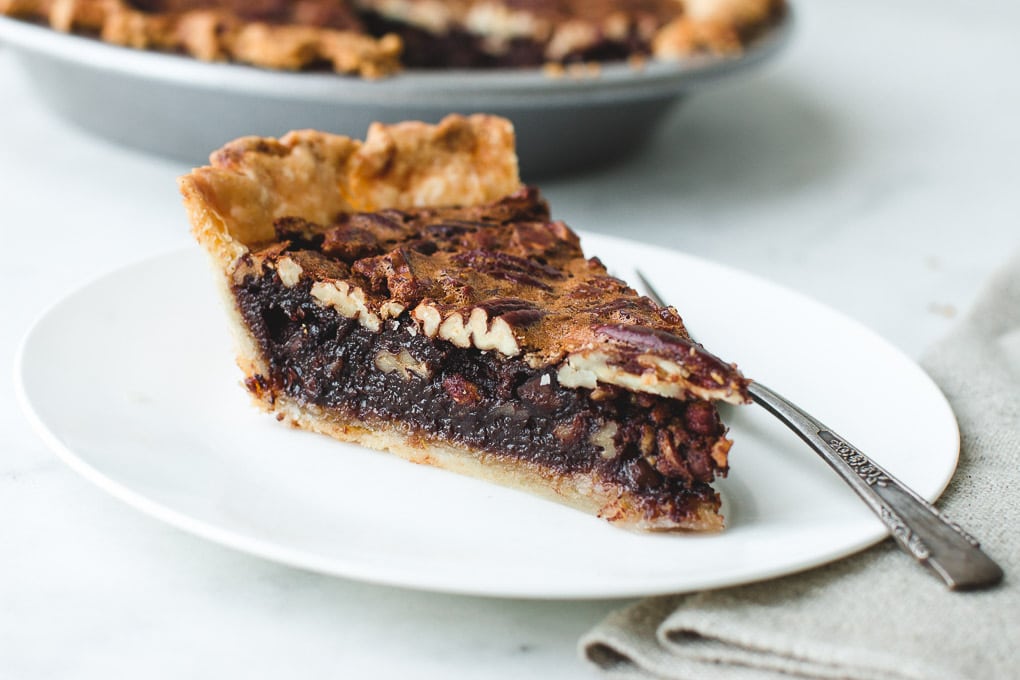 You know that classic desserts have always been my favorite, but adding a little twist on traditional old fashioned recipes is something I've always been doing to experiment with different flavors, especially when chocolate is involved. I love this chocolate version of pecan pie because the bittersweet chocolate offset the sweetness and because I REALLY like chocolate.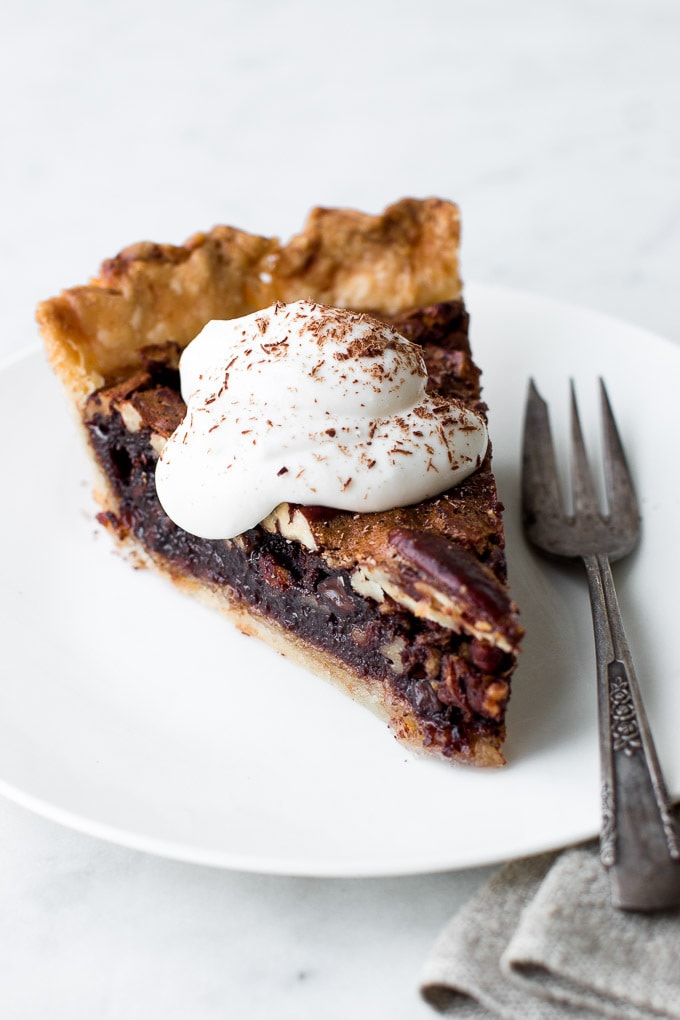 Sugar
I've always thought that pecan pies are way too sweet, so I wondered what would happen if I reduce the amount of sugar and corn syrup as I knew it would affect not only the flavor but also the texture. In this recipe I was able to reduce the amount of sugar by almost half compared to traditional recipes, and the result was great, still soft, cutard-y, gooey and wonderful. And although the addition of chocolate adds richness and makes this pie decadent, it actually balances the sweetness.
Flavor
Other than chocolate (and some bourbon if you like!), all the ingredients are similar to my pecan pie recipe, so the pie tastes like a classic pecan pie, only that it's super chocolatey because I add quite a lot of chocolate. If you serve it warm it will taste like a rich chocolate fudge cake. SO GOOD.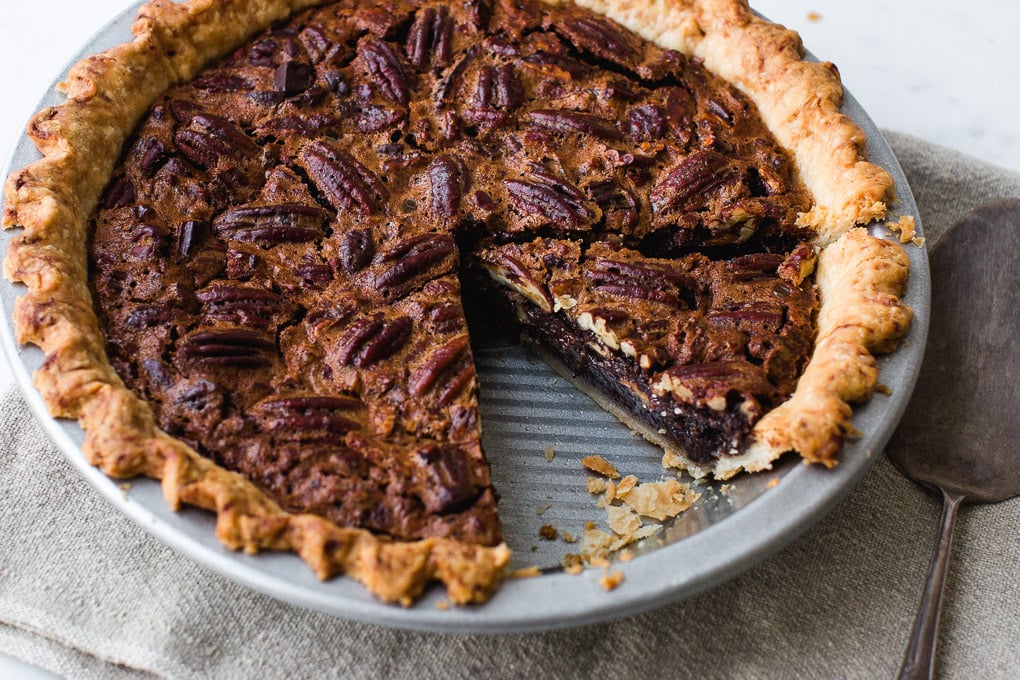 Chocolate Chips vs. Chopped Chocolate
I use chocolate bars for this recipe rather than chocolate chips. You can use chopped dark, bittersweet, or semi-sweet chocolate. Chocolate chips contain stabilizers that allow them to hold their shape during baking and it's usually sweeter and have a less intense flavor. Chocolate bar has a richer taste.
I use chocolate twice in this recipe. In the filling, chocolate and butter are melted before adding the other filling ingredients. For the filling I recommend using high quality chocolate that you like. Then, I spread some coarsely chopped chocolate (here you can use chocolate chips if you like) along with the pecans inside the pie shell before adding the filling, to make sure there are chocolate bits in every single bite. You can use less than 120g of chocolate if you want the pie to be less rich.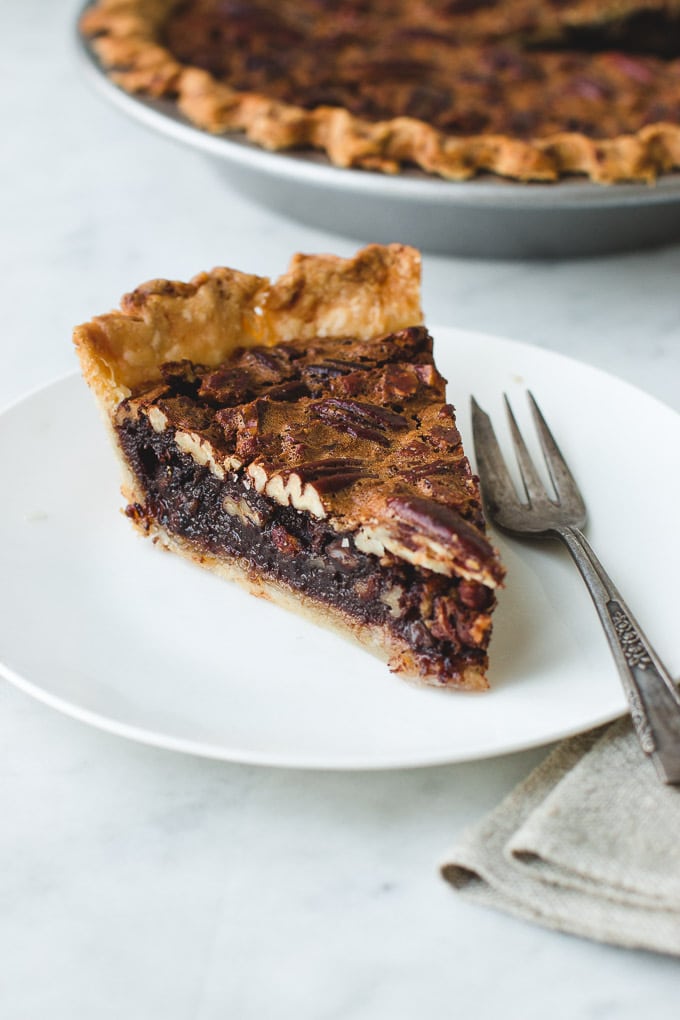 More Pies: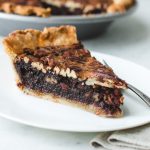 Chocolate Pecan Pie
This pie is very rich and full of chocolate flavor, so cut your servings small. The bourbon adds a wonderful flavor, so use it if you have it.
---
Ingredients
Dough
1 and 1/4

cups

all-purpose flour

1/2

teaspoon

salt

1

tablespoon

granulated sugar

1/2

cup

(1 stick/113g) cold butter, cut into small cubes

1/4

cup

(60 ml) very cold water
Filling
2

cups 

(200 g) pecan halves, preferably toasted

1/4 

cup 

(1/2 stick/56 g) unsalted butter, melted

1/3

cup

(55 g/2 oz.) chopped bittersweet chocolate

2/3 

cup 

(130 g/4.5 oz.) brown or granulated sugar

1/2 

cup

(120 ml) light corn syrup

3 

large eggs

2

tablespoons

bourbon

, optional

1 

teaspoon 

vanilla extract

1/4 

teaspoon 

salt

2/3

cup

(120 g/4 oz.) coarsely chopped bittersweet chocolate
Instructions
To make the dough: (for step-by-step recipe with photos click here) Process flour, salt, and sugar in a food processor for a few seconds until combined. Add butter and pulse until mixture becomes crumbly and resembles coarse meal, about 15 pulses. Add 3 tablespoons water and keep pulsing, adding more water as needed until the dough isn't dry and starts to clump together. Do not process to the point that a large ball of dough is formed, rather the dough should be quite crumbly with large clumps. Another way to check if it's done, is to take a piece of dough and press it between your thumbs – the dough should stick well together without feeling dry or crumbly.

Turn the dough to a floured surface and form into a ball. It should come together easily without being sticky. Flatten ball slightly with your hands to form a 1-inch thick disc. Wrap with plastic wrap and refrigerate for 1-2 hours.

Roll out the dough: Take the dough out of the fridge and let it sit on the counter for a few minutes to soften slightly for easy rolling. On a floured surface, roll dough out into a 12-inch circle, then place gently into a 9×2-inch pie pan; you can do this by flouring a rolling pin and rolling the dough loosely around it, then unrolling it into the pan. Brush away any excess flour on the surface. With a sharp knife, trim the edges of the pastry to fit the pie pan. Use a fork to create a decorative border or crimp the edges using your fingers. Cover with plastic wrap and place in the fridge for 30 minutes.

Adjust the oven rack to the lower third of the oven. Preheat oven to 350°F/180°C.

To make the filling: Chop the pecans into coarse pieces (or small pieces to make the pie easier to slice later on), reserving about 1/2 cup whole pecans for later decoration, if desired. Otherwise, chop all 2 cups.

Heat butter and 55g chocolate together in a saucepan over low heat until melted. Add sugar, mix for 30 seconds and turn off heat. Mix in corn syrup. Let mixture cool slightly. Add eggs, bourbon, vanilla, and salt, and mix until well combined. Spread chopped pecans and 120g chopped chocolate evenly inside the chilled pie shell. Pour filling over the pecans and chocolate. If you reserved pecans for decoration, decorate the surface of the pie with the pecans, pressing them in slightly so that they are coated with the filling.

Bake for 45-55 minutes. The top should look set, but when you gently shake the dish, it should jiggle slightly, mostly in the center. Cover the edges of the pie loosely with aluminum foil (or pie crust shield if you have one) if it starts browning too much while baking. If the top of the pie is also browning too quickly, cover the whole pie loosely with aluminum foil. Allow pie to cool completely on a wire rack, then chill for at least 4 hours before serving so that the filling can set. Serve warm or at room temperature.

Store pie in the fridge, covered, for up to 4-5 days.