These fudgy brownies are filled with three kinds of chocolate for an ultimate treat. For chocolate lovers like me, these are the perfect brownies for you!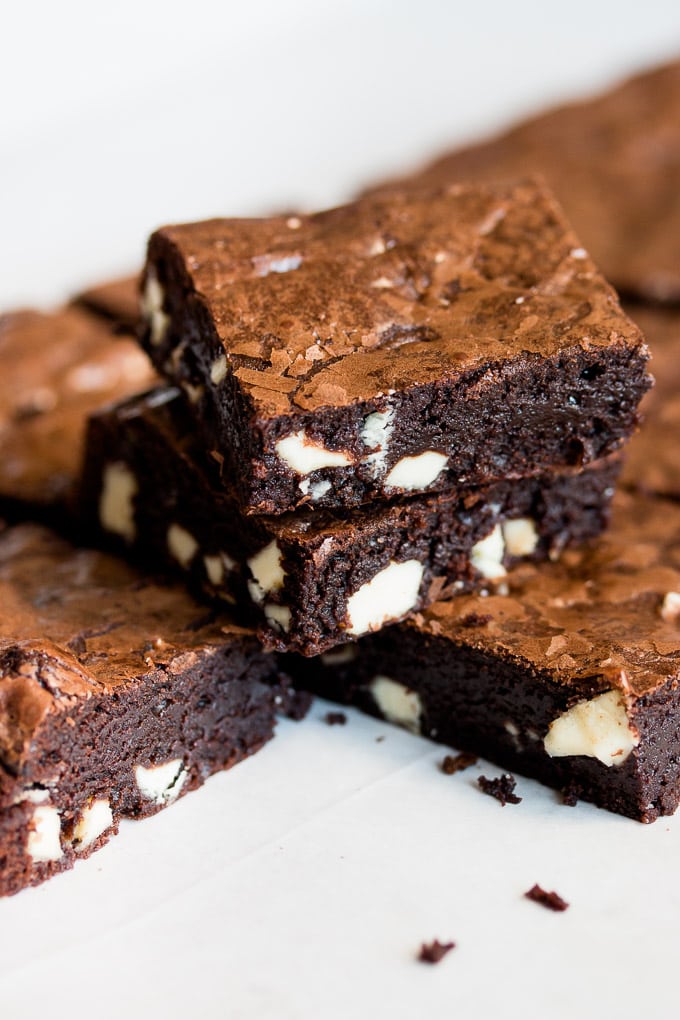 My perfect brownie is rich, fudgy and loaded with chocolate. My favorite ones to bake are my brownie muffins, but these white chocolate chip brownies might become my new favorite. The recipe is very similar but gets baked in a regular pan and adds in white chocolate chunks for an extra dose of chocolate.
The idea for this recipe came from my friend who brought some over and we couldn't resist tweaking the recipe to share with you. These white chocolate chunk brownies are simple to make, require few ingredients (almost half of them are chocolate) and are a delicious twist on the classic brownie. Once you've made a batch, you'll never go back to the boxed mix again.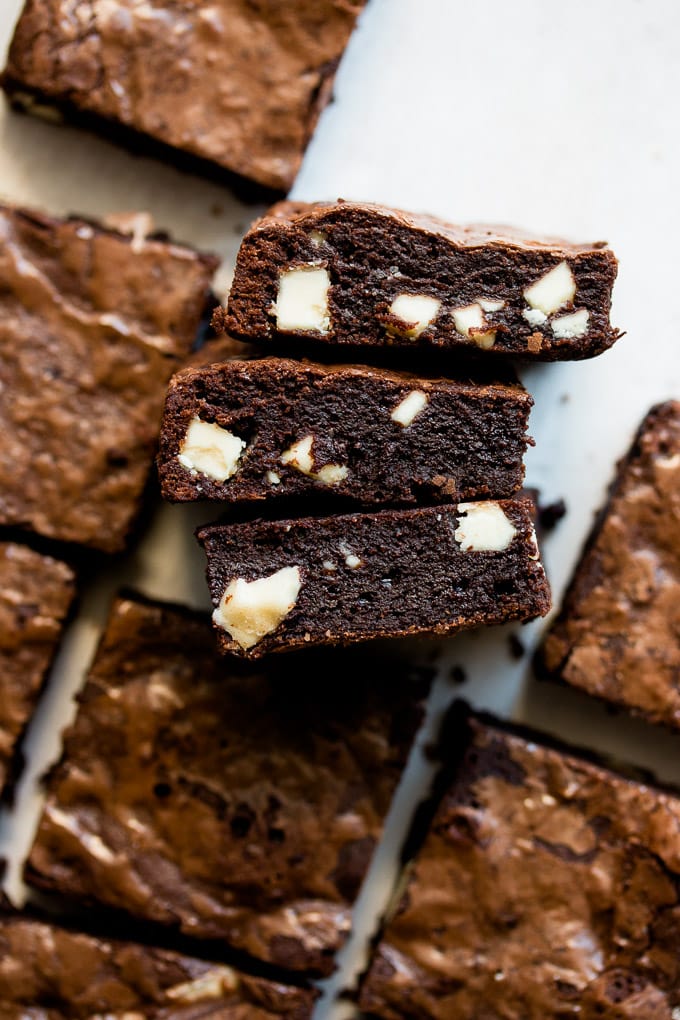 What Kind of White Chocolate To Use
Instead of using white chocolate chips, I actually prefer to make my own chunks by chopping up a high-quality chocolate bar. I've started doing this in many of my cookies, like these tahini chocolate chip cookies, and have found it makes all the difference in flavor and texture.
Chocolate chips often have stabilizers in them that prevent them from melting, which is not what you want in the perfect brownie. 😉 You can use chocolate chips, but I like to use chocolate from a high-quality bar that not only tastes better but guarantees a perfect melted chocolate swirl in every bite. For these brownies I use white chocolate, but you can use whatever type you prefer.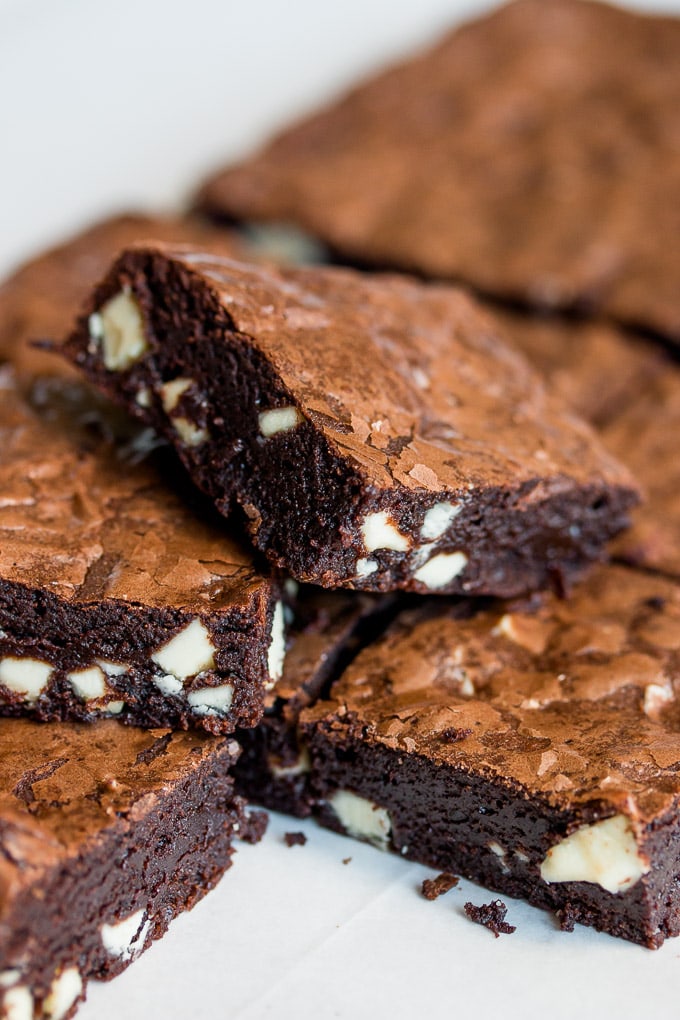 Why You Should Whip Your Eggs
For these simple white chocolate chunk brownies, how you combine your ingredients is extremely important since there are so few of them (another reason for using high-quality chocolate). Just like in my brownie muffins, I like give my eggs and sugar a separate whisking to add heft to the batter. This takes a good 4-5 minutes in a mixer, until the eggs and sugar are thick and pale yellow.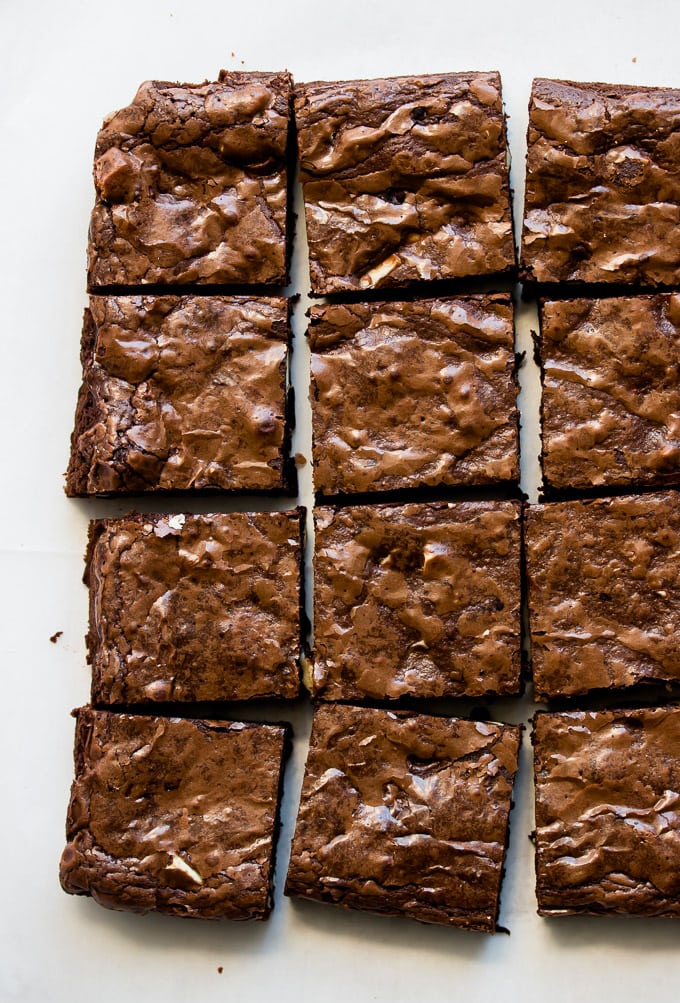 How to Make White Chocolate Chip Brownies
Now that we've covered two important steps, it's time to make some fudgy brownies. To start, you'll simply melt together the chocolate and butter in a microwave and sift together your dry ingredients. Keep these two things separate while you prepare your whipped egg mixture.
Once your eggs are whipped, turn off the mixer and add in your melted chocolate. Gently fold to combine, using a rubber spatula. Follow with the sifted flour mixture and keep folding until just combined. Lastly, fold in the chopped white chocolate until evenly distributed.
Pour the white chocolate brownie batter into a prepared pan and bake for 15-18 minutes. Make sure not to open the door in the first 13 minutes of baking but start checking for doneness with a toothpick each minute afterwards (mine are ready in 15 minute). These brownies have a short baking time since they aren't very thick, so it's important to not overbake them so they stay fudgy after cooling.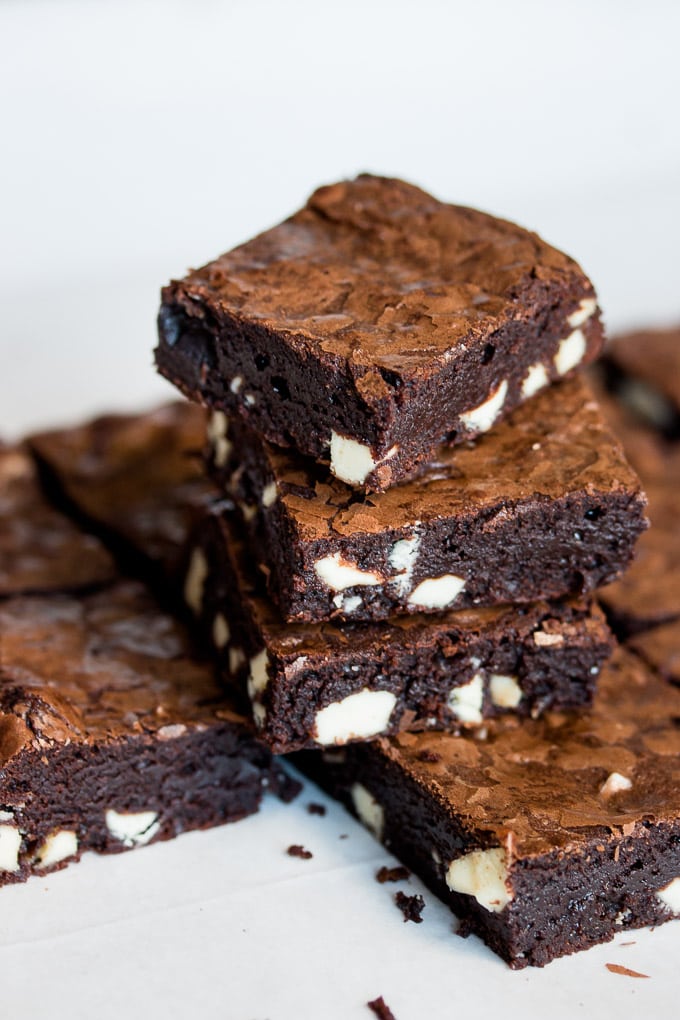 Let the brownies cool on a wire rack before cutting (you can refrigerate them until set for easier cutting). I like to serve them slightly warm, but they're also delicious at room temperature.
These easy white chocolate chip brownies are the ultimate treat for chocolate lovers. Filled with three kinds of chocolate, there's nothing plain about these brownies.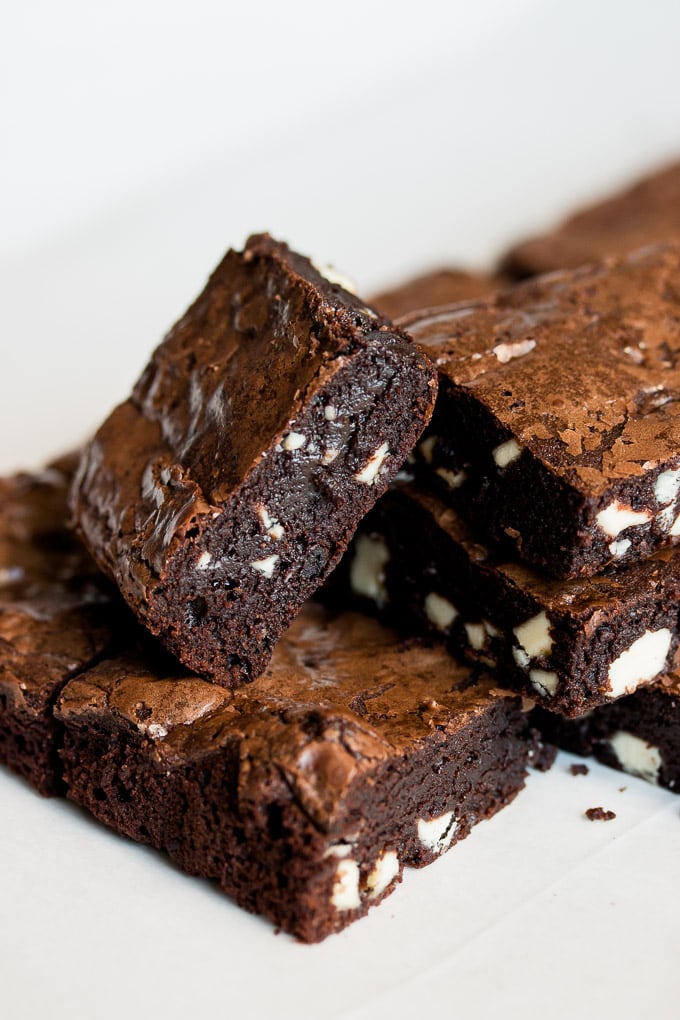 Other white chocolate recipes: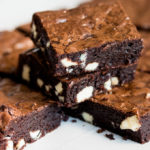 White Chocolate Chip Brownies
---
Ingredients
2/3

cup

(95g) all-purpose flour

1/3

cup

(35g) unsweetened cocoa powder (I use Dutch-processed)

1/2

teaspoon

salt

7

oz.

(200g) bittersweet chocolate, coarsely chopped

2/3

cup

(150g) unsalted butter, cut into pieces

3

large eggs

3/4

cup

plus 2 tablespoons (175g) granulated sugar

7

oz.

(200g) white chocolate chips or chunks
Instructions
Preheat oven to 350°F/180°C. Line a 9×13 inch pan with parchment paper or aluminum foil, leaving enough overhang on the sides for lifting the brownies out after baking.

In a small bowl sift together flour, cocoa powder, and salt. Set aside.

In a medium heatproof bowl, place chocolate and butter. Heat mixture in the microwave in 20- to 30-second intervals, stirring between each interval, until melted. Alternatively, you can set the bowl over a saucepan of simmering water, stirring occasionally. Set aside.

Using a mixer fitted with the whisk attachment, whisk eggs and sugar on high speed until thick and pale, 4-5 minutes. Turn off mixer. Slowly add in chocolate mixture and fold, using a rubber spatula, until combined. Add flour mixture and keep folding just until combined. Fold in white chocolate.

Pour batter into prepared pan and smooth the top. Bake for 15-18 minutes. Don't open the oven door in the first 13 minutes of baking. Mine are ready in 15 minutes, it sounds too short but these brownies aren't very thick and it's important to keep them fudgy, so be careful not to overbake. A toothpick inserted into the center of the brownies should come out moist, not dry. Let brownies cool completely on a wire rack. You can refrigerate until set for easy cutting. Lift brownies out of the pan using parchment paper and cut into bars. Slightly warm they're heavenly!

Store brownies at room temperature or in the fridge in an airtight container for up to 4 days. Serve warm or at room temperature. Brownies can be frozen for up to 2 months. Thaw them overnight in the fridge.