This Caribbean-inspired rum cake is a moist and buttery cake with a bold rum flavor that balances the sweetness of the cake. Traditionally a Caribbean holiday season dessert, this rum soaked cake is the perfect entertaining cake for anytime of the year!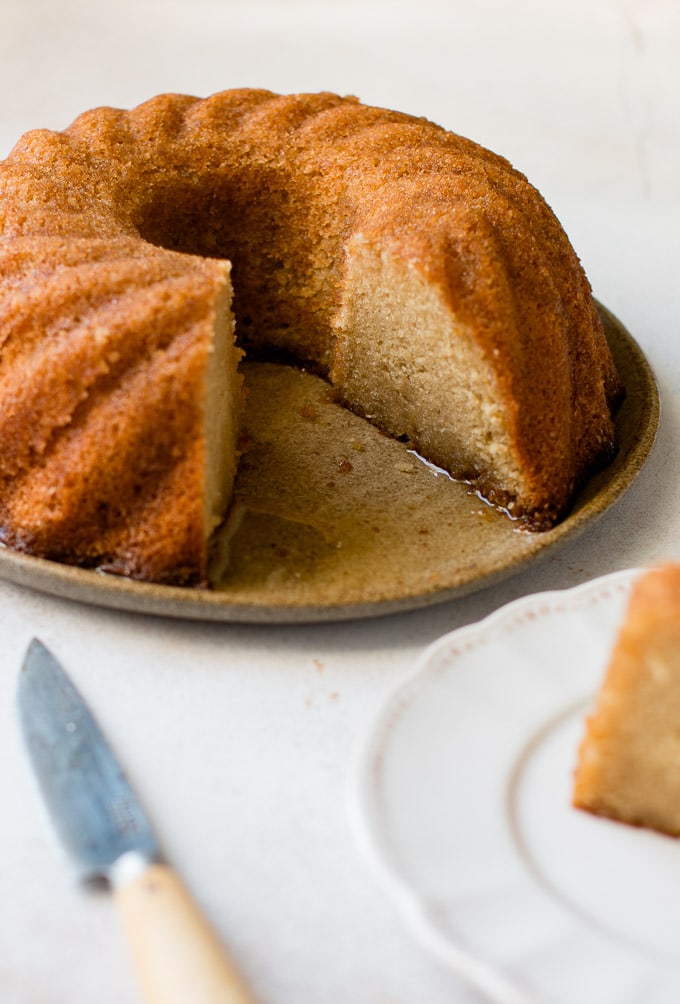 About Caribbean rum cake
If you've ever traveled to the Caribbean, you've probably come across a slice of rum cake during your trip. Rum cake is traditionally a holiday season dessert, inspired by the dried fruit holiday puddings of Britain, made with dried fruit soaked in rum and a sweet buttery caramel.
The cake has evolved over time, becoming more of a sponge cake soaked in rum than a rum-soaked fruitcake (you can still find this variety). The light cake gets soaked in a rum-butter syrup, becoming an incredibly moist and sweet cake. Loaded with rum flavor, it's truly for those who love the sweet and bold notes of rum.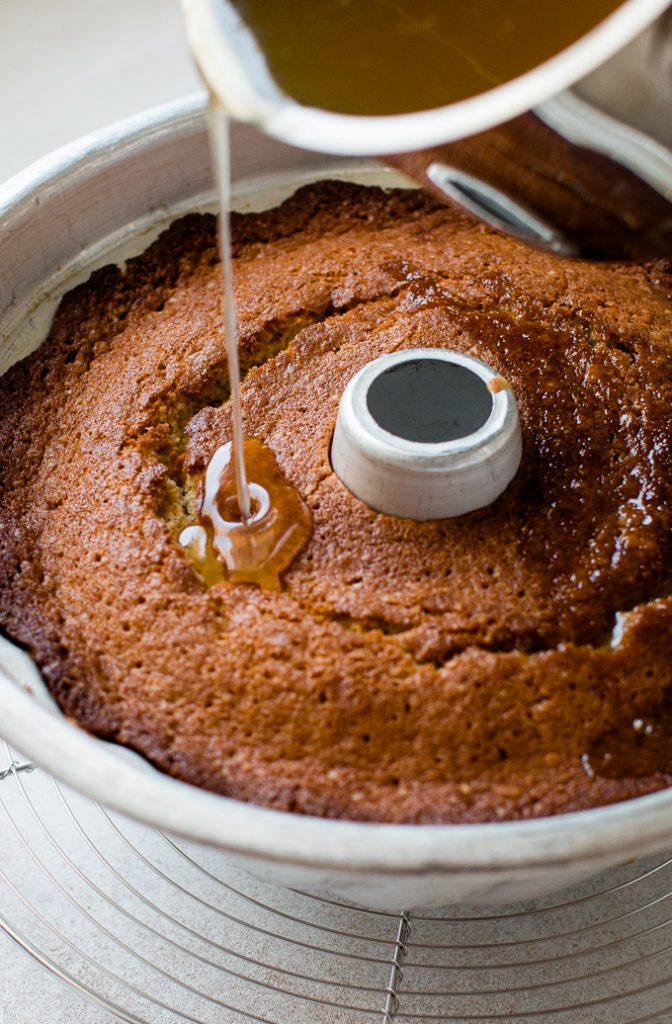 Notes about rum
With rum being a key ingredient in this rum soaked cake recipe, it's important to use a rum with amazing flavor. My favorite rum to bake with is Myers's dark rum (not a sponsored post, just a huge fan) as it has a bold flavor that makes this cake taste like a sweet rum cocktail. Dark rum is my preferred choice – I also use it in my Rum Soaked Banana Brownies – but feel free to use whatever rum you like the taste of.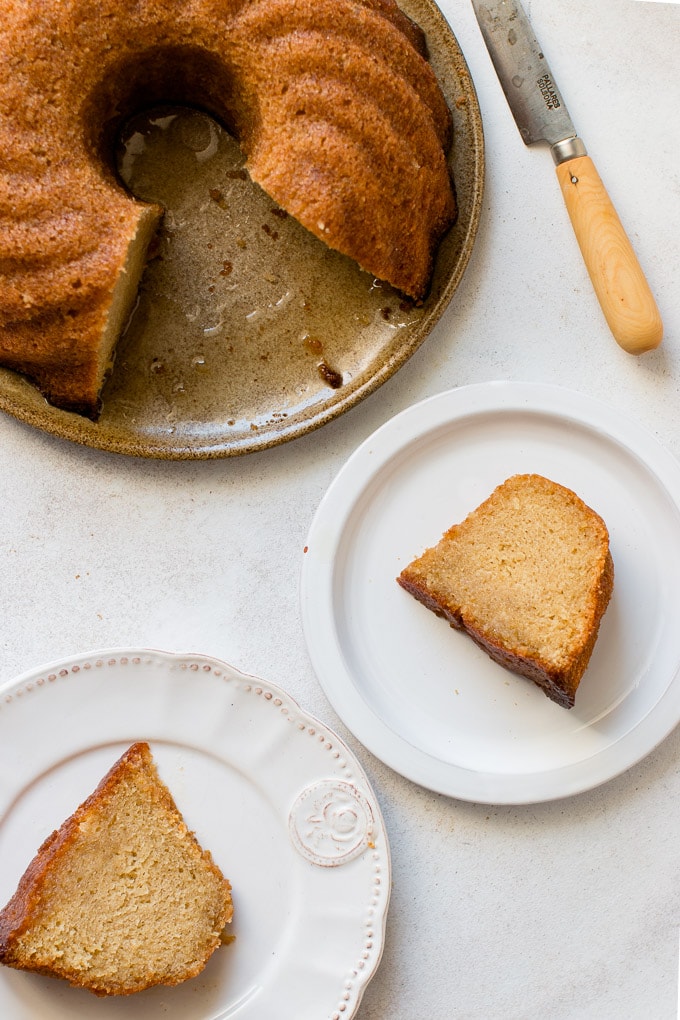 How to make rum cake
The base of this rum cake recipe is a basic batter made with flour, cornstarch and baking powder for your dry ingredients and both butter, oil and heavy cream (or milk) for your liquids. The use of butter, oil and heavy cream means the cake is light and fluffy with a tender moist crumb from the added oil.
You bake the batter in a Bundt pan for 40-50 minutes, or until a toothpick inserted into the center comes out clean. Keep a close eye on the cake as it bakes, since the top may begin browning too fast. If that happens, simply cover the top of the pan loosely with aluminum foil to prevent over-browning.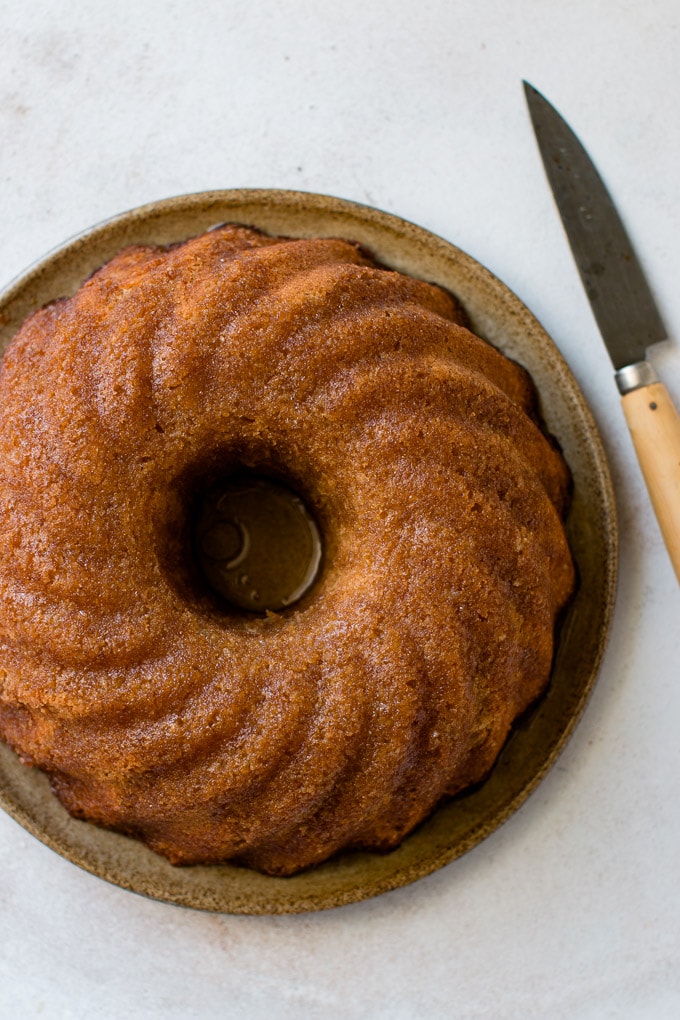 Butter rum glaze
While your cake is baking, you can get to work on the delicious glaze that really elevates this rum cake to be one of the best. While not a necessary component, this glaze adds a lot of extra moisture and flavor to the rum soaked cake and is a step I highly recommend for this Caribbean classic treat.
The simple glaze is made by heating up butter, water and sugar until a syrup forms. At this point you will add some rum, setting aside to cool slightly until your cake finishes baking. Once you take your cake out of the oven, gently pour half of your rum cake glaze over it and allow it to cool for 10-15 minutes.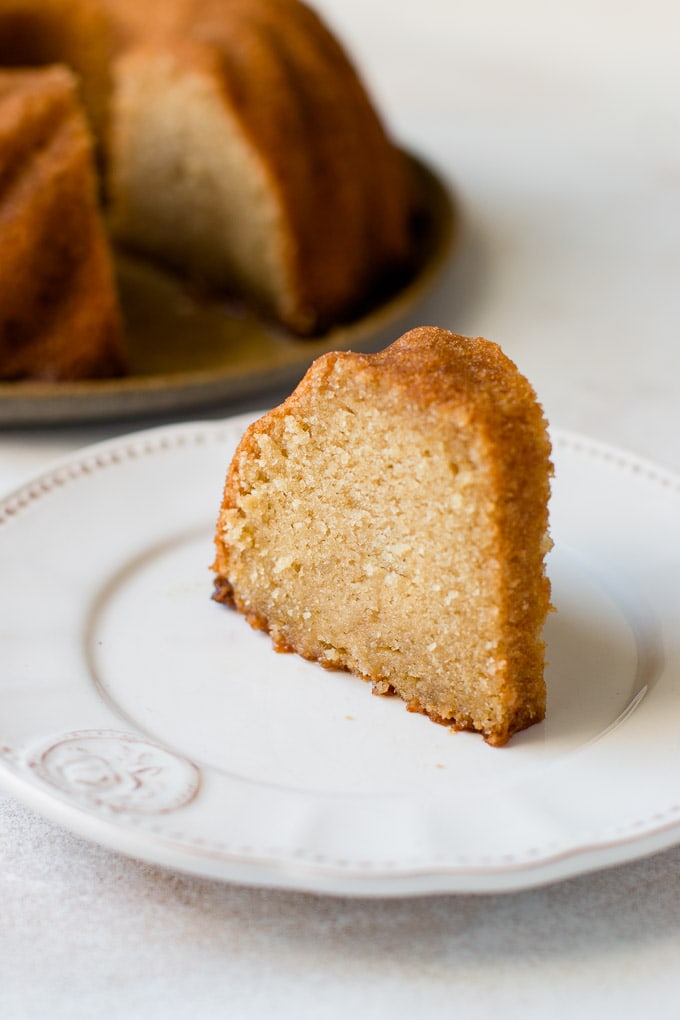 Once slightly cooled, run a knife gently around the edges of the pan and carefully invert the rum soaked cake onto a plate. Brush the remaining glaze along the top and sides of the cake and let it cool to room temperature.
This Caribbean rum cake is the perfect way to bring the tropics to your kitchen! Full of rum and sugar, it's the baked version of a sweet rum cocktail. The rum soaked cake is best served at room temperature and can be stored for up to 5 days in the fridge. Whip up a Pina Colada and enjoy a slice of this incredibly moist rum cake!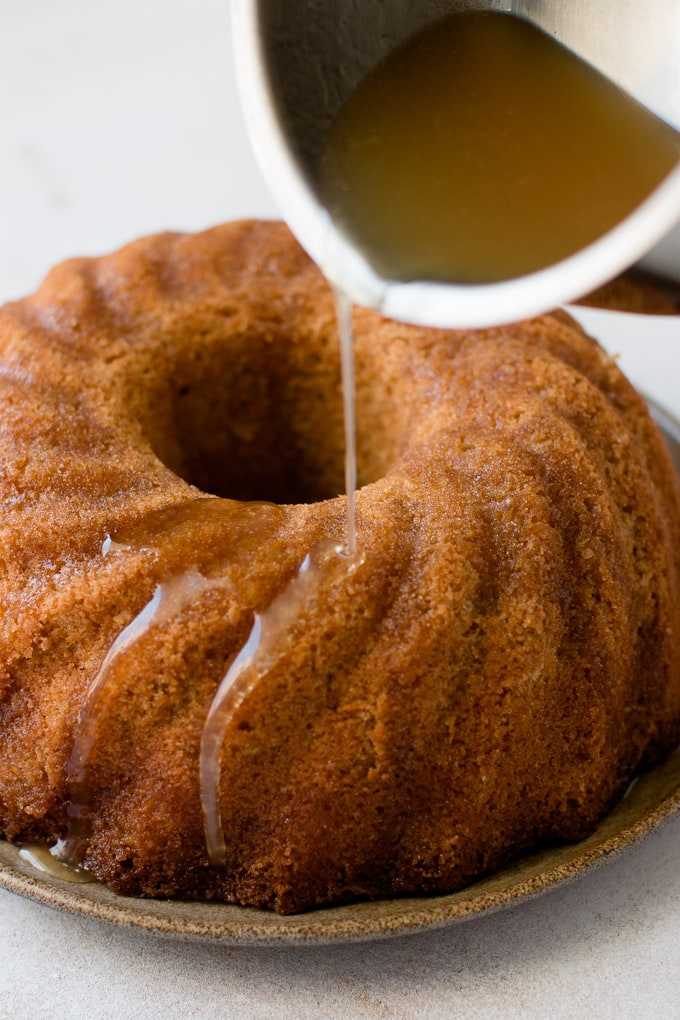 More Bundt Cake Recipes: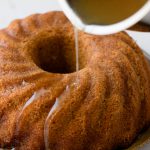 Rum Cake
---
Ingredients
1 3/4

cups

(245g) all-purpose flour

1/4

cup

(35g) cornstarch

2

teaspoons

baking powder

1/2

teaspoon

salt

3/4

cup

(170g) unsalted butter, at room temperature

1 1/3

cups

(260g) granulated sugar (or 1/3 cup brown sugar plus 1 cup granulated sugar)

1/4

cup

(60 ml) canola or vegetable oil

3

large eggs

1/2

cup

(120 ml) heavy cream (or milk)

1/2

cup

(120 ml) dark rum

2

teaspoon

vanilla extract
Glaze:
1

stick (115g) unsalted butter

1/4

cup

(60 ml) water

3/4

cup

(150g) granulated sugar

1/4

cup

(60 ml) dark rum
Instructions
Adjust oven rack to middle position and heat oven to 350°F/180°C. Grease well a 12-cup (10-inch) bundt pan and set aside.

To make the cake: In a medium bowl, whisk together flour, cornstarch, baking powder, and salt. Set aside.

In a standing mixer fitted with the paddle attachment, beat together butter, oil, and sugar for 5 minutes until light and fluffy. Occasionally scrape down the sides and bottom of the bowl. Add eggs, one at a time, beating well after each addition. Add heavy cream (or milk), rum, and vanilla, and beat until combined. On low speed, beat in the flour mixture and mix just until combined.

Scrape batter into prepared pan and smooth the top. Bake for 40-50 minutes or until a skewer inserted into the center of the cake comes out clean. If the top is browning too fast while baking, cover pan loosely with aluminum foil.

While the cake is in the oven, make the syrup: In a small saucepan, combine butter, water, and sugar. Cook on medium-low heat until sugar dissolves and syrup forms. Turn off heat and mix in rum. Set aside until the cake is ready.

When the cake is out of the oven pour about half of the syrup gently and slowly over the cake. Allow cake to cool for 10-15 minutes, then, run a knife gently around the edges of the cake, and remove cake from pan, carefully inverting it onto a plate. After inverting the cake, brush top and sides of the cake evenly with the rest of the syrup. Allow cake to cool to room temperature.

The cake is best served at room temperature. Store cake in an airtight container in the fridge for up to 5 days. Leftovers can be frozen for up to 2 months.