This fudgy, individually portioned chocolate mug cake is incredibly rich and chocolatey. It takes 5 minutes to make and requires very few ingredients! Get your spoon ready for this ultimate chocolate mug cake recipe that's guaranteed to satisfy your sweet tooth.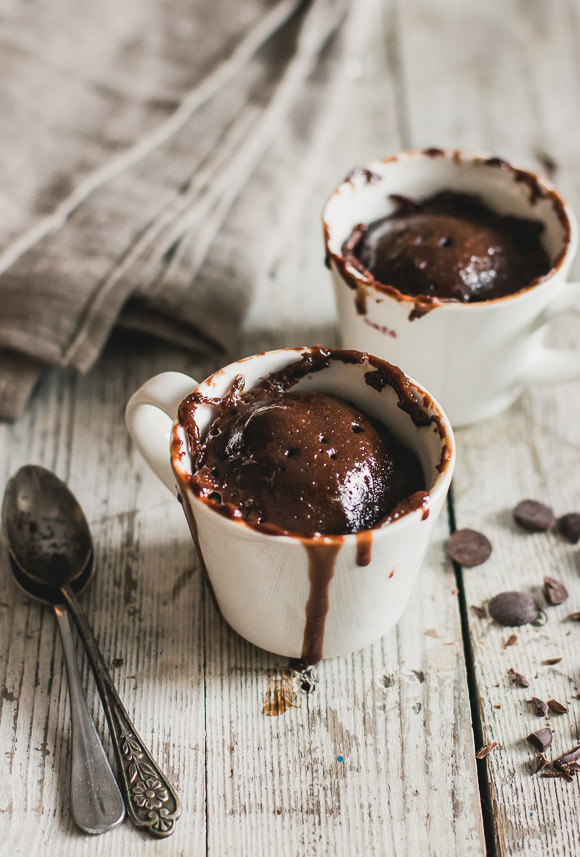 Who doesn't love simple desserts that take minutes to make? This chocolate mug cake recipe is perfect for those late night chocolate cravings or when you just don't feel like doing any real baking. Throw a few simple ingredients together and within 5 minutes, you have gooey, fudgy, delicious chocolate cake. Get ready to indulge!
I'll be the first to agree that microwave cakes usually aren't that tasty, so it was a challenge for me to come up with a recipe that I really love. In this recipe, I use melted chocolate and butter which, in my opinion, yield better results than most other recipes that call for cocoa powder.
Get ready for an amazing chocolate cake!
How to make chocolate mug cake
The secret to this cake is under-cooking it, which yields an incredible gooey cake. Here's how to make it perfect:
Melt chocolate and butter together. Do this in a heatproof bowl in the microwave in 30 second intervals, stirring in between each until the two are melted together.
Add sugar, egg and flour. Gently whisk in the sugar, followed by 1 egg, and lastly, the flour. Be careful not to overmix.
Microwave. Pour the batter into a large mug and microwave for 1 minute. What's really gonna make or break this cake is the cooking duration and heat level. Microwave heat is strong and uneven, so it's not always easy to know when the cake is done and not overbaked. If your microwave cooks really hot or uneven, start with microwaving the cake for 30 seconds, and then increase the time if needed.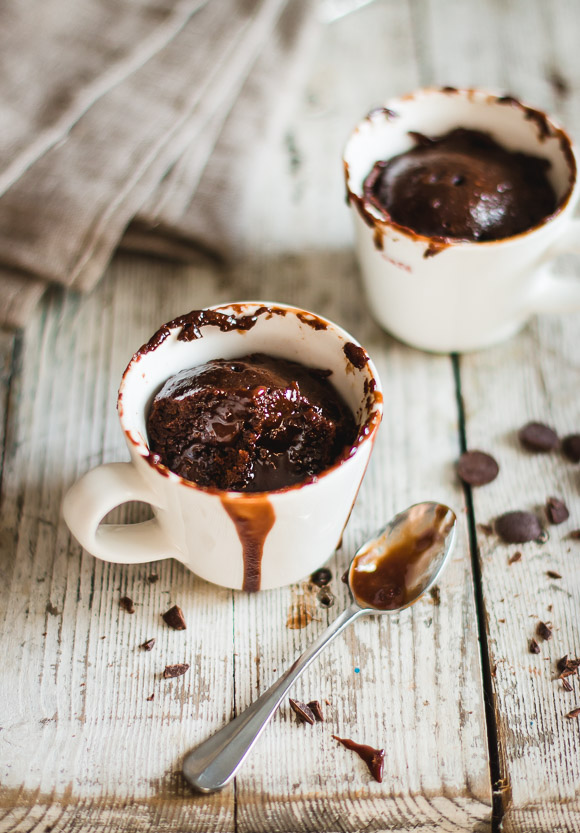 Tips for making perfect chocolate mug cake
Use good quality chocolate. Chocolate is the star ingredient here, so the better quality chocolate you use, the better your mug cake will taste.
Don't overmix your matter. Overmixing will make your mug cake denser, and we want it as fudgy as possible. Simply mix the ingredients until they are fully incorporated.
Undercook your cake. This cake is meant to be molten and fudgy, so be careful not to overmicrowave it, which will cause it to dry out. You'll know it's done when the cake has risen and solidified slightly but still has spots of shine.
Feel free to add garnishes. Of course, this cake tastes amazing on it's own. But when I really want to indulge, I top it with whipped cream or no-churn vanilla ice cream (or both)!
More super quick recipes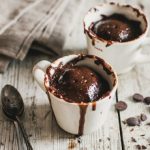 Chocolate Mug Cake
Fudgy, rich, and decadent chocolate mug cake ready in just 5 minutes.
Ingredients
42g

(1.5 oz.)

dark chocolate, coarsely chopped (or ¼ cup chocolate chips or chunks)

3

tablespoons

(40g) unsalted butter

3

tablespoons

(40g) granulated sugar

1

large egg

2

tablespoons

(18g) all-purpose flour
Instructions
Place chocolate and butter in a small heatproof bowl, then set in the microwave and heat for 30 seconds. Take it out and stir, then continue to microwave in 20-second intervals, stirring between each interval until melted and smooth.

Add sugar to the bowl and mix until combined. Add egg and whisk vigorously until completely smooth. Lastly, add flour and mix just until combined and lump-free, but don't over mix.

Scrape batter into your favorite mug (the mug should be bigger in capacity than the batter to avoid overflowing). Microwave for 1 minute at 700-750 W. If it's undercooked, heat for a few seconds longer. I like it when it's not fully cooked and there are still molten parts. Let stand for 2 minutes, then dig in.