This is a quick and easy peanut butter fudge recipe that's ready in only 5 minutes. If you have guests arriving soon or a peanut butter craving, this is the recipe for you! With only 4 ingredients, it's so simple to make.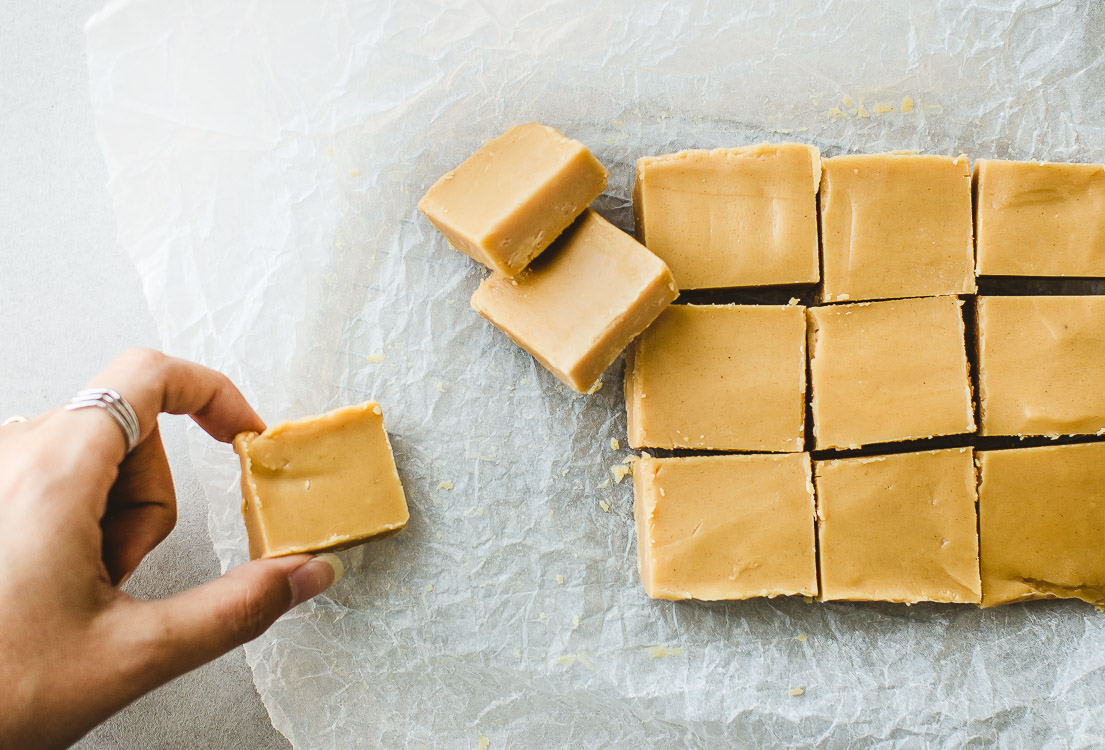 Last time I visited my brother in London, he took a couple of days off work and we went to Bath, a unique city in England. One of the recommended shops there was the San Francisco Fudge Factory, and I immediately spotted its pink logo when we arrived. I tasted every flavor they had and was so impressed with how good it was. I'm usually not a fudge fan because I think it's too sweet, but they had some salty flavors that I loved, such as salted caramel, coffee, and peanut butter.
This is a classic recipe for homemade peanut butter fudge that was inspired by my trip to San Francisco Fudge Factory. Although it's sweet like fudge should be, it's not overwhelming. it's also a bit salty and incredibly creamy because of the peanut butter. I can never keep this fudge around the house because everyone loves it so much – it's gone too quickly!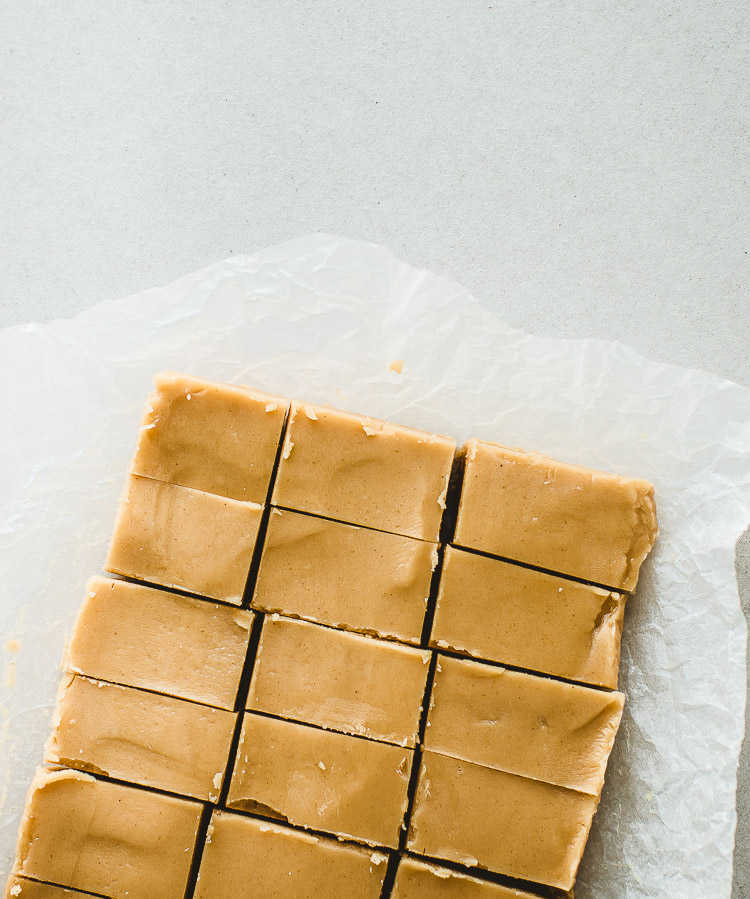 How to make peanut butter fudge
This 4-ingredient peanut butter fudge recipe is so easy to make and uses only a few simple ingredients: butter, peanut butter, powdered sugar, and vanilla extract. I like to add a bit of salt to cut some of the sweetness, but it's optional.
Here's how to make it:
Melt the butter and peanut butter together. I prefer doing this right in the microwave, but you can do it on the stovetop, too.
Combine with the rest of the ingredients. Once melted, mix in powdered sugar, vanilla extract and salt.
Chill. Spread the mixture evenly in an 8×8-inch pan and place in the fudge to set completely.
Cut. Once chilled, cut the fudge into squares, and enjoy!
See how easy that was??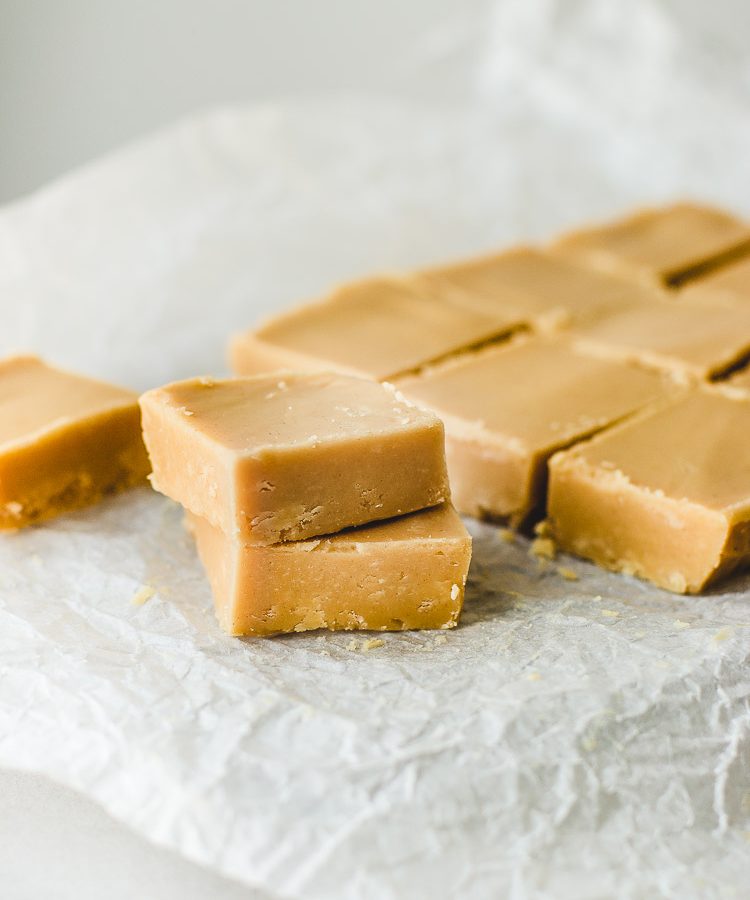 What kind of peanut butter should I use?
For the best texture and flavor, use a non-natural, creamy peanut butter like Skippy Jif. Natural peanut butter has a thinner texture and doesn't usually have added salt or sugar. I created this recipe using Skippy peanut butter, and determined how much salt and sugar to add based on what was already in the peanut butter.
How long does peanut butter fudge last?
This peanut butter fudge will stay fresh in the fridge for up to one week.
Can I garnish the fudge?
Sure! You could sprinkle peanuts or chocolate chips on the top for extra flavor and texture. Do so before chilling. You could also drizzle a bit of caramel sauce or chocolate ganache over the fudge for added deliciousness after it's set.
More Peanut Butter Recipes: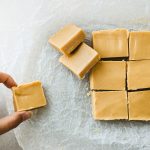 Peanut Butter Fudge
This creamy sweet and salty peanut butter fudge tastes absolutely incredible.
Ingredients
1

cup

(227g) unsalted butter

1

cup

(250g) creamy peanut butter

3 and ½

cups

(400g) powdered sugar, sifted

1

teaspoon

pure vanilla extract

pinch

of salt

, optional
Instructions
Line a 8×8-inch pan with aluminum foil. Set aside.

Place butter and peanut butter in a medium heatproof bowl, and microwave in 1-minute intervals, stirring the mixture in between each interval, until melted and completely smooth. Add vanilla and salt if using.

Add powdered sugar and stir with a wooden spoon. The mixture will become thick. Press into the prepared pan and place in the fridge for 2-3 hours until completely set. cut into 40-50 squares, or any size you want.

Store fudge in an airtight container in the fridge for up to a week.