A rich and creamy chocolate banana tart filled with decadent Nutella ganache and fresh bananas. This no-bake dessert is a foolproof recipe that's great to make ahead.
This Nutella tart is everything I want in a dessert: easy to make, filled with chocolate, and can be made days in advance of serving. I've made a Nutella tart before, but in an effort to make the recipe even simpler (and use up some ripe bananas sitting on my counter) I developed this chocolate banana tart recipe. With only three ingredients in the filling, which can be made entirely in the microwave, this no-bake Nutella tart is one of the easiest tarts I've created – and definitely one of the most delicious!
If you love Nutella, chocolate and bananas then this tart is just for you. It's essentially a foolproof dessert, but I'm sharing a few tips and suggestions to make it even easier.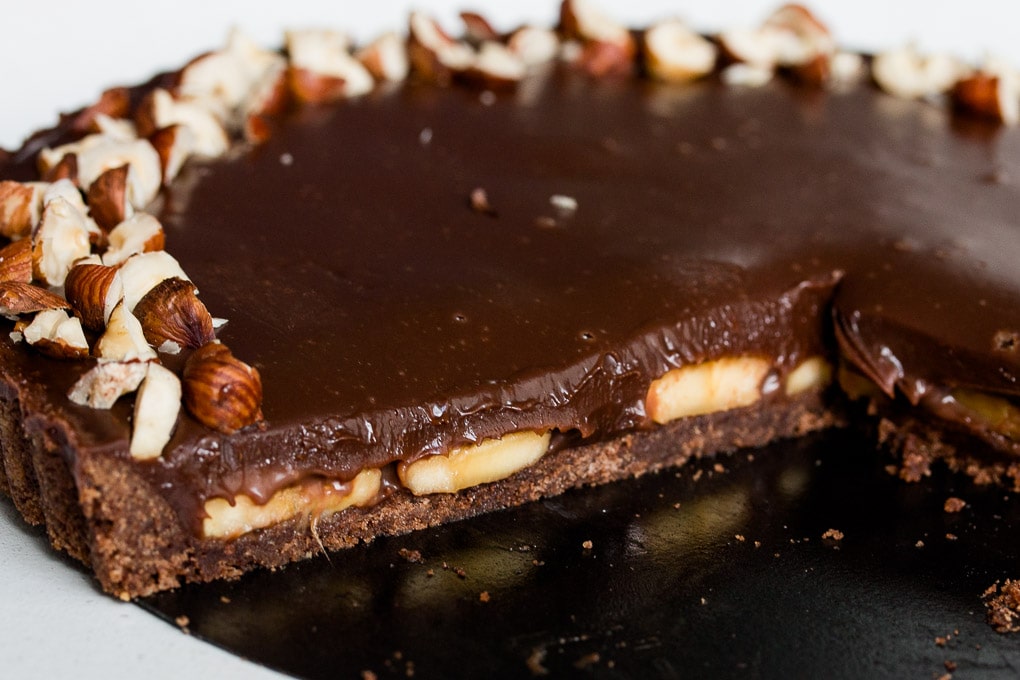 Choose Your Crust
This is the only "baking" part of the recipe, as you'll have to make a crust for the no-bake filling. You have a few options, however, and can even use your personal favorite pie crust recipe. For this chocolate banana tart I like to use a wafer crust. It's easy to make and can be pressed directly into the pie pan, no rolling pin required. And, it only takes 8 minutes to bake!
For the recipe below I use vanilla wafers and cocoa powder, but you can also just use chocolate wafers and omit the cocoa powder. You can even use Oreos like I do in my no-bake chocolate tart.
If using vanilla wafers or graham crackers, be sure to add the melted butter and cocoa powder after processing the wafers to get a homogeneous dark crust. I prefer to use Dutch-processed cocoa powder for a darker crust, but you can use whatever kind you have. You can even omit the cocoa powder entirely for a simple vanilla crust.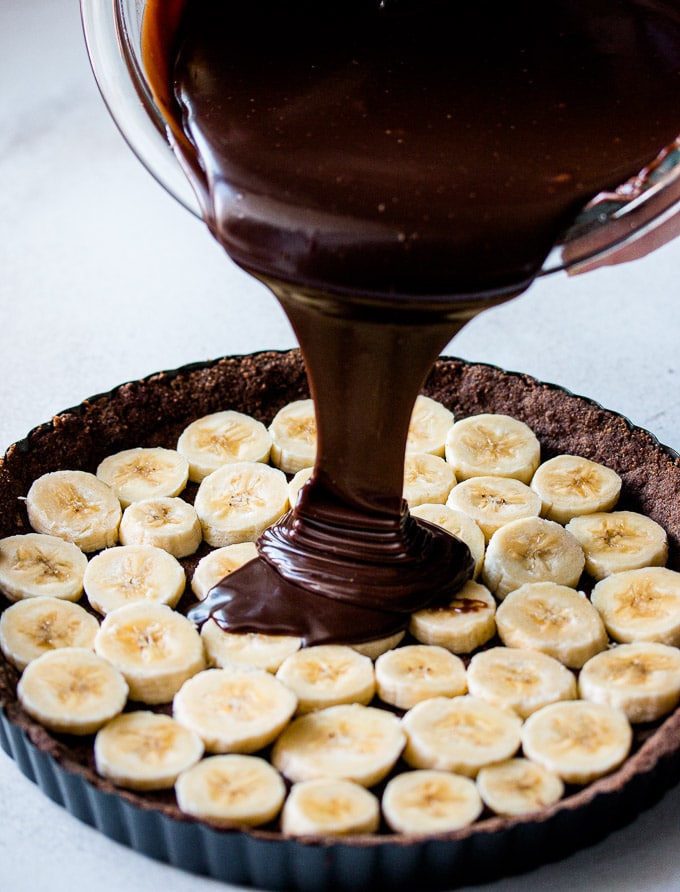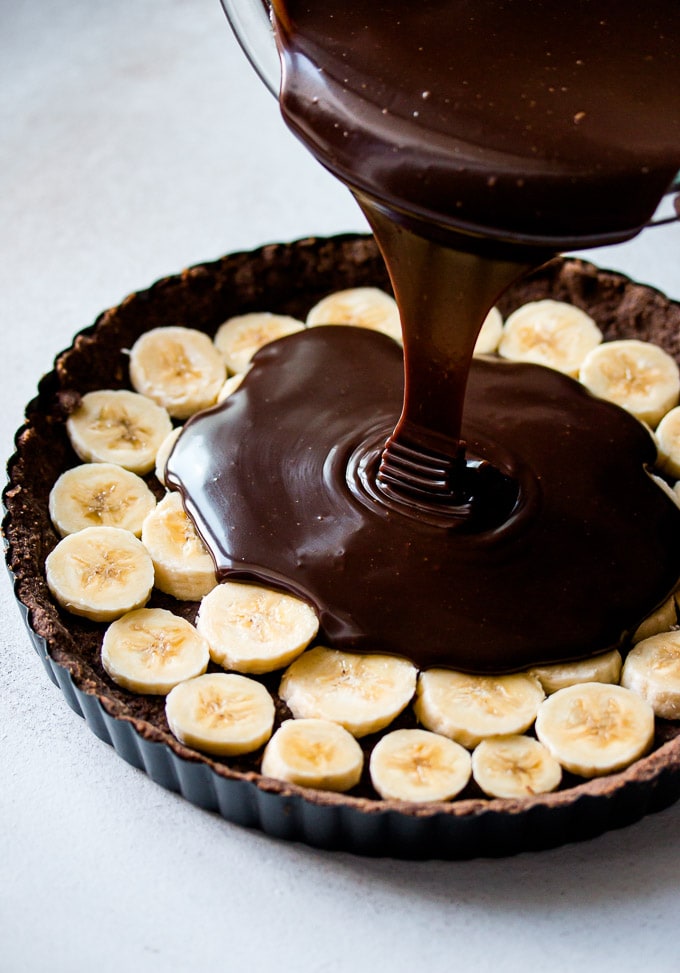 The Perfect Bananas
Since you won't be baking the chocolate banana tart with Nutella, you want the bananas to be ripe and perfectly sweet. You have to be careful, however, because if the bananas are too ripe they won't hold their shape and will look unappealing in the tart.
For the best chocolate banana tart, I like to use bananas with lots of brown spots but aren't entirely black (save those for banana bread). A great trick for ripening bananas quickly is to put them in a paper bag and loosely fold down the top. This increases the amount of ethylene gas and should get your bananas perfectly ripe in 1-2 days.
With your ripe bananas, evenly slice them and lay over the crust (see the photo above for reference). Make sure your crust is cooled, as you don't want the bananas to soften up from the heat.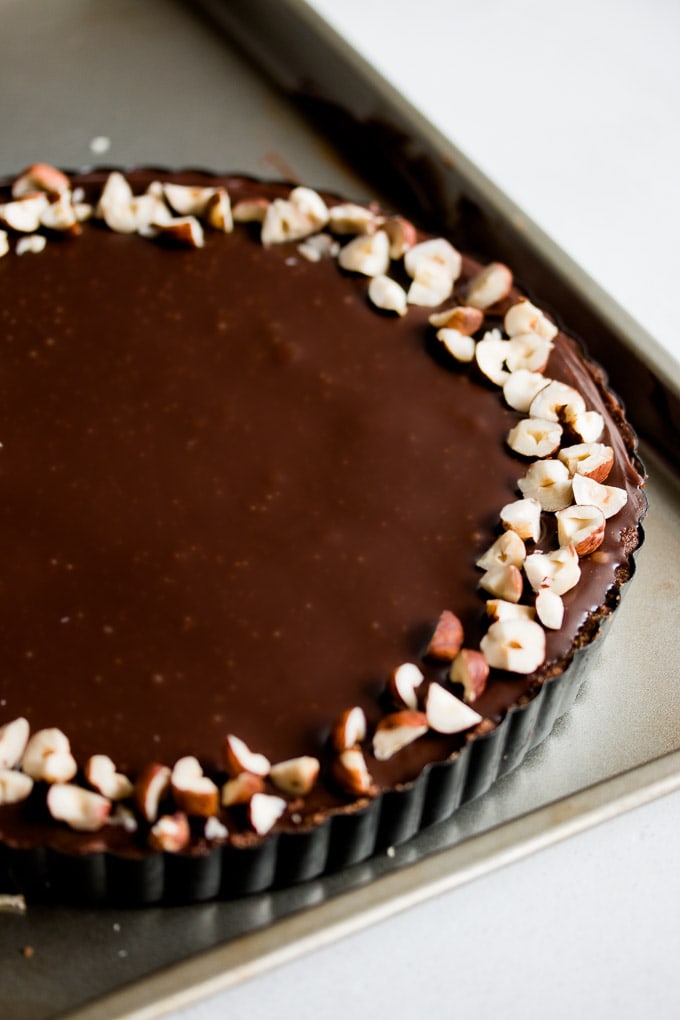 Making the Nutella filling
This is the easiest, and most delicious part of my chocolate banana tart recipe. The Nutella ganache filling is decadent, creamy and takes only minutes to make. All you need to do is microwave the chopped chocolate, Nutella, and heavy cream together, stirring every 30-seconds, until melted and smooth. It will be thick but pourable; it firms up once you cool the Nutella tart in the fridge.
Pour the filling over the bananas and spread it evenly across the pie. Place the tart in the fridge and let cool until set, at least 4 hours or overnight. You can also make the chocolate banana tart a day or two in advance. I like to serve it chilled, with a dollop of fresh whipped cream.
This chocolate banana tart is an easy no-bake recipe. It comes together in minutes, and can be made well in advance of any celebration. With a crust you can adapt to dietary preferences, such as gluten-free, this is a tart for anyone who loves chocolate. So put those ripe bananas to use and dig in!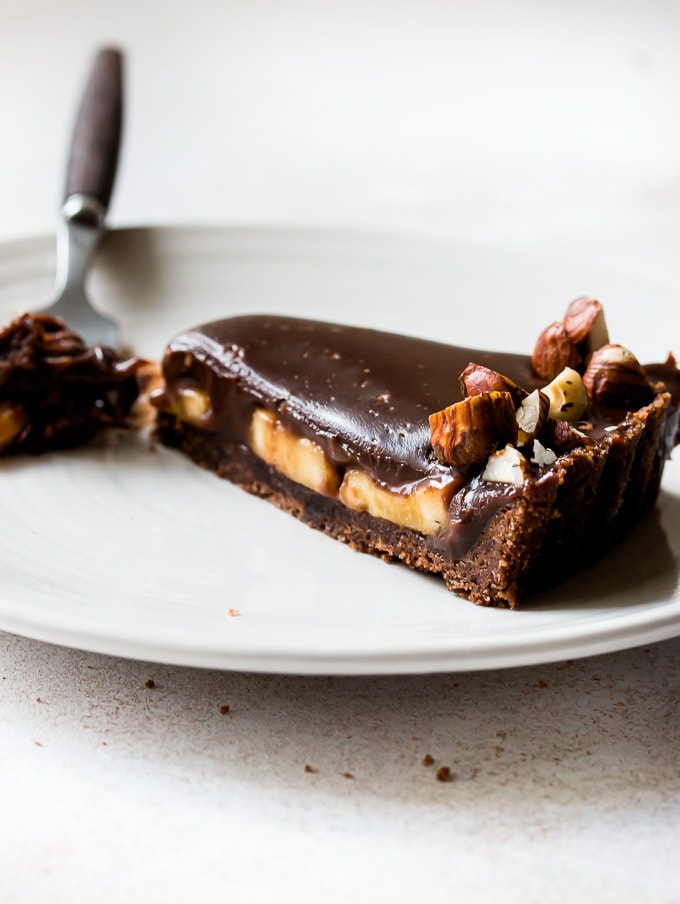 Other no-bake recipes: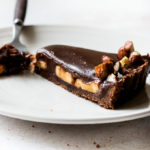 Chocolate Banana Tart (with Nutella)
---
Ingredients
Base
200

g

(2 cups) finely ground digestive biscuits, vanilla wafers or graham crackers

7

tablespoons

(100g) unsalted butter, melted

2

tablespoons

(13g) cocoa powder

1/8

teaspoon

salt
Banana Layer
3-4

ripe (but not black) bananas
Nutella Ganache
300

g

(10.5 oz.) milk chocolate, chopped

3/4

cup

(240g) Nutella

1

cup

(240 ml) heavy cream

Chopped hazelnuts, for garnish, optional
Instructions
To make the crust: Place butter, cocoa powder, and salt in a medium bowl and melt in the microwave. Mix well. Add crumbs, and mix until combined and moistened. Using your fingers, press the mixture into the bottom of a 9-inch tart pan (I use a pan with removable bottom) and up the sides to form an even layer. For a crispy crust, bake the crust at 350ºF/180ºC for 8 minutes. Allow to cool before adding the filling. If you don't want to bake the crust, cover the crust with plastic wrap and place in the fridge to chill for one hour, until firm, before adding the filling.

Slice bananas and lay them over the crust (see photo above to see how it looks like).

To make the filling: In a medium heatproof bowl, place chopped milk chocolate, Nutella, and heavy cream. Microwave in 30-second intervals until melted and smooth. Pour mixture over bananas. Garnish with chopped hazelnuts, if desired. Refrigerate until set, at least 4 hours or overnight. You can make the tart a day ahead of time.

Tart will keep, covered well, for up to 5 days in the fridge.