Creamy and mousse-like, this no-bake cheesecake is served in individual dishes, making it a fancy yet simple dessert.
Just after celebrating the blog's one-year anniversary, I'm turning around and celebrating my one-year wedding anniversary. I still can't believe that I'm married. It just seems so… grown up.
Before I pack my bags for a relaxing weekend with my most handsome friend, I wanted to tell you all about this easy no-bake cheesecake. The bottom layer is mainly made of cookie crumbs, and the filling is basically a rich, creamy cheesecake mousse. And it tastes even better than it sounds. Plus, I just love deserts served in jars or glasses, don't you? It makes them look so ornate and unique.
Although the cheesecakes in the photos were topped with strawberries, but you can use any fruit that goes well with cheesecake like cherries, berries, kiwis, or tropical fruits. With strawberry season still at its peak, though, I find it hard not to take full advantage of it. My freezer is already filled with them, by the way – just to be on the safe side.
Instead of fresh fruit, you can top the cheesecake with chocolate ganache, lemon curd, berry sauce, jam, or sugared nuts. If using fresh berries that aren't sweet enough, toss them with a bit of granulated sugar. Even if they do have enough natural sweetness, you may want to toss them with lemon juice, zest, or berry jam for extra flavor.
Another option is to make individual trifles, which means arranging it in layers. I made one trifle in a jar, as you can see below, to give you an idea of what it looks like. For a trifle variation, fresh berries or lemon curd is especially good.

More Cheesecake Recipes: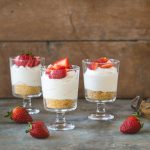 Individual No-Bake Cheesecake
YIELD
:
6
individual glasses (150ml each)
This recipe yields 6 individual glasses, 12 smaller glasses, or 20-24 shot glasses.
---
Ingredients
For the Crust:
3/4

cup

(85 g/3 oz) graham cracker/digestive biscuit/vanilla cookie crumbs (pulse in a food processor or blender until finely ground.)

2

tablespoons

(25 g) unsalted butter, melted
For the Cheesecake Filling:
8

oz

(225 g) cream cheese, at room temperature

1/2

cup

(100 g/3.5 oz) granulated sugar

1

teaspoon

pure vanilla extract

1-2

teaspoons

lemon zest

, optional

1

cup

(240ml) heavy cream

Diced fresh fruit

, for topping
Instructions
Make the crust: In a medium bowl, mix together crumbs and melted butter until combined and crumbs are moistened. Divide evenly between individual serving dishes (about 2 tablespoons per serving dish). Press on the mixture with your fingers to form a crust layer.

Make the filling: In a large bowl, combine cream cheese and sugar, and whisk well until combined and completely smooth (if grainy, beat with an electric mixer until smooth). Add in vanilla and lemon zest. Set aside to let sugar dissolve into the cream cheese. Using an electric mixer fitted with the whisk attachment, whisk heavy cream until soft peaks form. Avoid overbeating. Using a spatula, gently fold half of the whipped cream into the cream cheese mixture, then fold in the other half. Evenly spoon (or pipe using a piping bag) about ½ cup of filling into each serving dish.

Top with fresh fruit or any other topping you like (read above post for suggestions). Cover and place in the fridge for at least one hour before serving, or up to 2-3 days.