This easy no-bake tart is made from a simple Oreo crust and rich chocolate ganache filling.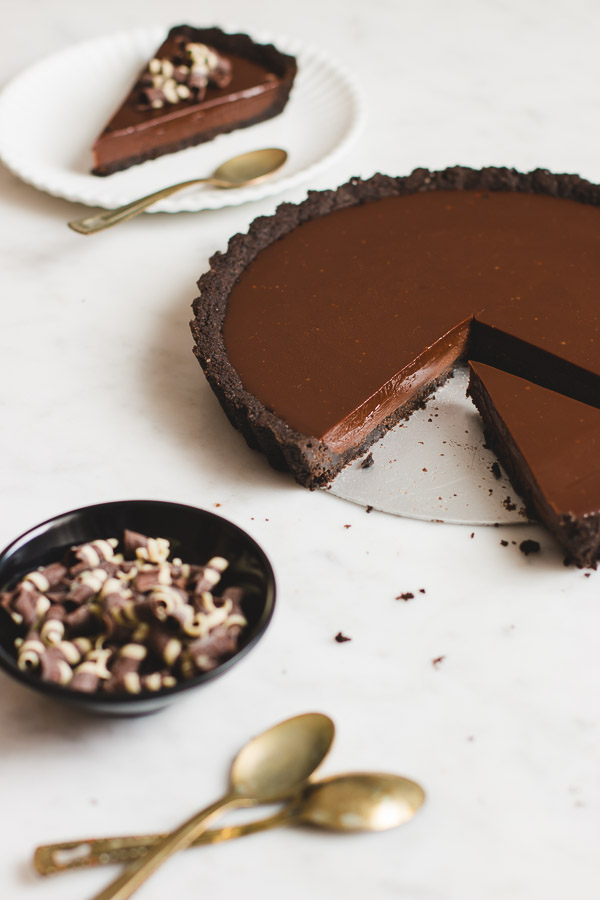 You know how when you have a cold, nothing seems to have any flavor? The funny thing is, every time it happens to me, there's one single thing I am actually still able to taste. Not too surprisingly, that thing is chocolate. It sounds like I'm making this up because it doesn't make any sense, but I'm being totally serious. That's probably also the reason why I'm the only person on Earth to gain weigh instead of losing it whenever I'm sick. I can easily wipe out a chocolate tart like this for dinner. Just like I'm planning on doing this evening.
For the crust, I'm using a simple mixture of Oreo crumbs and butter, which you can never go wrong with.
For the filling, I use my favorite truffle recipe as a base. It's dense and creamy and tastes like a dream. I like using both milk and dark chocolate to create a more complex, less bitter flavor, but using just dark is fine as well.
This is an already impressive-looking tart, but you can upgrade it by adding garnishes on top like fresh strawberries or raspberries, chocolate shavings, or cocoa powder, or by adding fresh banana slices or chopped toasted nuts in the bottom.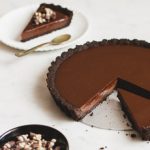 No-Bake Chocolate Tart
YIELD
:
9
-inch (23cm) tart
This easy no-bake tart is made from a simple Oreo crust and rich chocolate ganache filling.
---
Ingredients
Oreo Crust:
24

Oreo cookies

6

tablespoons

(3/4 stick/85 g) unsalted butter, melted
Ganache filling:
170

g/6 oz

(1 cup) coarsely chopped bittersweet chocolate

170

g/6 oz

(1 cup) coarsely chopped milk chocolate

1

cup

(240 ml) heavy cream

1/4

cup

(1/2 stick/56 g) butter, cut into small pieces
Instructions
To make the crust:

Pulse Oreo cookies, with filling, in a food processor until finely ground. Transfer crumbs to a medium bowl, add melted butter, and mix until combined and moistened. Press the mixture onto the bottom and up the sides of a 9-inch (23cm)

tart pan

. Place it in the fridge for 30 minutes to firm up before adding the filling (or before baking the crust). If possible, I recommend to bake the crust in a 350F/180C preheated oven for 5-6 minutes, then let it cool completely on a wire rack before adding the filling. This will make the crust more crisp and less soft.

To make the filling: In a medium heatproof bowl, place chopped bittersweet and milk chocolate. Set aside. In a small saucepan over medium heat, bring the heavy cream and butter to a low boil. Remove from the heat and pour mixture over the chocolate. Let stand for 1 minute. Using a rubber spatula, stir mixture until melted and smooth (if not completely melted, heat in the microwave for several seconds and stir, until melted). Pour mixture over chilled Oreo crust and refrigerate until set, at least 4 hours or overnight. You can make the tart a day ahead of time.

Tart will keep, covered well, for up to 4-5 days in the fridge.