This incredibly easy, no-bake chocolate tart is made with a simple Oreo crust and rich chocolate ganache filling made with both milk and dark chocolates. You won't be able to eat just one piece!
If you've followed me for awhile, then you know that chocolate is my guilty pleasure. I really can't get enough of the stuff no matter what the dessert is – whether in brownie bites, French silk pie, or flourless hazelnut chocolate cake, I truly love it all.
This no bake chocolate tart tastes like a dream and is so easy to make. This crust is made with a simple mixture of Oreo crumbs and butter, which you can never go wrong with, and for the filling I use my favorite truffle recipe as a base. It's dense and creamy and made with both milk and dark chocolates to create a more complex flavor.
This is an already impressive-looking tart, but you can upgrade it by adding garnishes on top like fresh strawberries or raspberries, chocolate shavings, or cocoa powder, or by adding fresh banana slices or chopped toasted nuts in the bottom.
How to make this no bake chocolate tart
Make the crust. Pulse the Oreos with their filling in a food processor until they are very finely ground. In a bowl, combine the melted butter with the Oreo crumbs and press firmly and evenly into a tart pan. Then, put the crust in the freezer for at least 30 minutes to chill.

Alternative method: You can also bake the crust for 5-6 minutes in a 350°F oven to make it crunchier. I prefer doing this when I have the time, but if you skip this step the crust will still solidify well in the refrigerator.

Make the filling. Put the chocolate in a heat-proof bowl. Boil the cream and butter in a saucepan and pour over the chocolate. Allow the chocolate to melt for about a minute before you use a whisk or spatula to mix together to completely melt. Pour the filling into the chilled crust.
Refrigerate. Refrigerate the chocolate tart until set, about 4 hours should do the trick. Garnish were fruit or chocolate if desired.
See? I told you it was easy :).
Tips for making no bake chocolate tart
Bake the crust if you can. While I realize it makes this tart not completely "no-bake," it only needs to bake for about 5 minutes or so and enhances the structure of the crust. But if you skip this step, don't worry – the crust will still set up and taste amazing.
Chop the chocolate. If using chocolate bars for the filling, chop or break up the bars into small pieces before pouring the cream over it. This will make it easier to melt the chocolate.
Microwave the filling if necessary. If the chocolate doesn't all completely melt once you pour the cream on it, put the bowl in the microwave for 20 second increments to melt, stirring each time.
Use full-fat cream. When preparing any chocolate ganache, you want to use full-fat cream so it sets up properly and has an ultra-creamy texture.
More amazing no-bake dessert recipes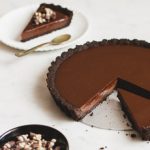 No-Bake Chocolate Tart
YIELD
:
9
-inch (23cm) tart
This easy no-bake tart has a simple Oreo crust and rich and creamy chocolate ganache filling.
---
Ingredients
Oreo Crust:
24

Oreo cookies

6

tablespoons

(85g) unsalted butter, melted
Ganache filling:
1

cup

(170g, 6 oz.) coarsely chopped bittersweet chocolate

1

cup

(170g, 6 oz.) coarsely chopped milk chocolate

1

cup

(240 ml) heavy cream

1/4

cup

(56g) unsalted butter, cut into small pieces
Instructions
To make the crust:

Pulse Oreo cookies, with filling, in a food processor until finely ground. Transfer crumbs to a medium bowl, add melted butter, and mix until combined and moistened. Press the mixture onto the bottom and up the sides of a 9-inch (23cm)

tart pan

. Place it in the fridge for 30 minutes to firm up before adding the filling (or before baking the crust). If possible, I recommend to bake the crust in a 350F/180C preheated oven for 5-6 minutes, then let it cool completely on a wire rack before adding the filling. This will make the crust more crisp and less soft.

To make the filling: In a medium heatproof bowl, place chopped bittersweet and milk chocolate. Set aside. In a small saucepan over medium heat, bring the heavy cream and butter to a low boil. Remove from the heat and pour mixture over the chocolate. Let stand for 1 minute. Using a rubber spatula, stir mixture until melted and smooth (if not completely melted, heat in the microwave for several seconds and stir, until melted). Pour mixture over chilled Oreo crust and refrigerate until set, at least 4 hours or overnight. You can make the tart a day ahead of time.

Tart will keep, covered well, for up to 4-5 days in the fridge.