These popular old-fashioned cookies are soft, chewy, and entirely coated with a cinnamon-sugar mixture!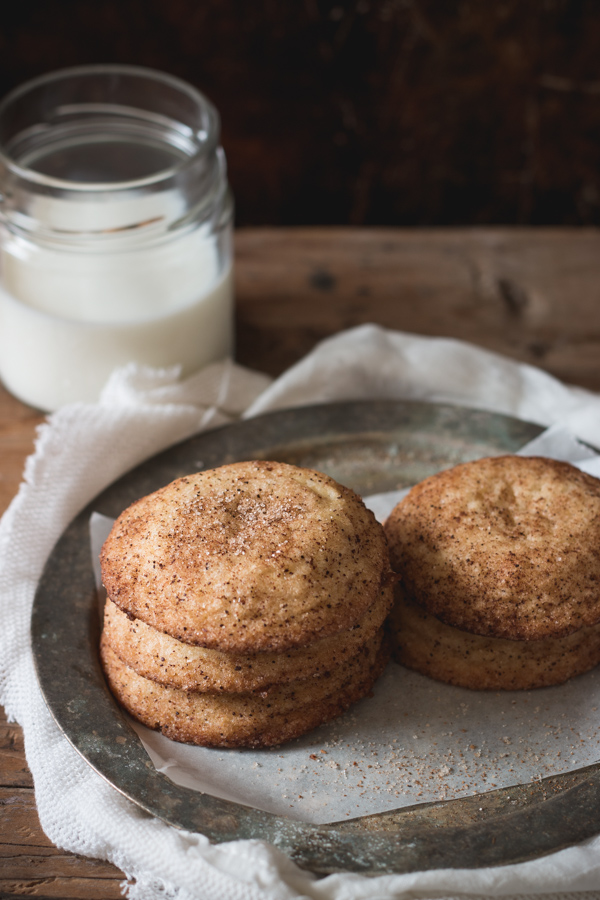 Think of something sweet you'd like right at this moment. Now imagine coating it with cinnamon-sugar. Doesn't it already sound much better?
Plus, with such a whimsical name, who could possibly resist these cookies?
Old-fashioned snickerdoodles are chewy sugar cookies coated in a cinnamon-sugar mixture. The batter is basic and very simple to make. While some recipes use shortening as the fat, I like the taste of pure butter in my cookies. Once you're done making the dough, it should be quite firm and thick. If it's too soft, chill it in the fridge for 1-2 hours until firm. If you bake the cookies while they're soft, they'll spread. The thicker they are, the softer and chewier their centers will be, and the happier you and your guests will be.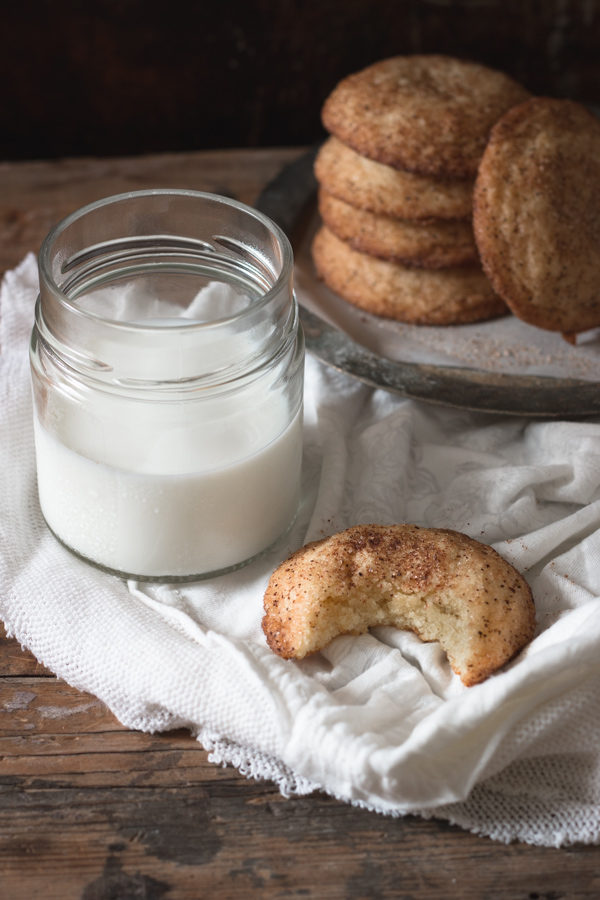 Next, you'll need to roll the cookies in the cinnamon-sugar mixture, which is obviously the best part of the recipe. 3 teaspoons of cinnamon may sound a lot, but it tasted perfect to me, although who knows what my taste buds are used to? You can start with adding 1-2 teaspoons of cinnamon to the sugar, then adding more if desired.
If you're wondering what cream of tartar is and what it's doing in your cookies, here's a short explanation: Snickerdoodles are sometimes confused with sugar cookies since they share the same basic ingredients. However, there is one thing that a snickerdoodle has that a sugar cookie doesn't, and that is cream of tartar. This ingredient gives the snickerdoodle its traditional tangy taste and adds to the chewiness of the cookie. With that said, if you don't have any, you can substitute the cream of tartar AND the baking soda in this recipe with 2 teaspoons of baking powder. If you want a classic snickerdoodle, use cream of tartar. If you just want a delicious cookie and don't care about the old-fashioned taste, feel free to substitute the cream of tartar with baking powder, but don't forget to omit the baking soda as well. I tried making these cookies using baking powder, and they were still chewy and delicious. In all honesty, I even enjoyed them just as much as regular snickerdoodle cookies (but don't tell anyone).
Start watching the cookies after 8 minutes in the oven. The edges should just begin to brown and the interior should look soft. We want a crispy edge, but a chewy, soft center. The longer you bake them, the crispier they become.
IF YOU LOVE CINNAMON AS MUCH AS I DO (and I know you do), also try:
cinnamon rolls
cinnamon sugar donuts
cinnamon streusel coffee cake
Snickerdoodle Cookies
These popular old-fashioned cookies are soft, chewy, and entirely coated with a cinnamon-sugar mixture!
Ingredients
Cookies:
2¾ cups (370 g/13 oz) all-purpose flour
2 teaspoons cream of tartar* (see notes for substitution)
1 teaspoon baking soda*
½ teaspoon salt
1 cup (2 sticks/230 g) unsalted butter, at room temperature
1½ cup (300 g/10.5 oz) granulated sugar
2 large eggs, at room temperature
1 teaspoon pure vanilla extract
Cinnamon-Sugar Coating:
¼ cup (50 g/1.8 oz) granulated sugar
3 teaspoons cinnamon (or less, depending on taste)
Instructions
In a medium bowl, sift together flour, cream of tartar, baking soda, and salt. Set aside.
In a mixer bowl fitted with the paddle attachment, beat butter and sugar on medium speed for 2-3 minutes, until light and fluffy. Add eggs, one at a time, beating well after each addition. Beat in vanilla extract. Add flour mixture and beat on low speed just until combined. Do not over mix.
If the dough is soft at this point, chill in the fridge for 1-2 hours or until firm. This step results in thicker cookies that will spread less while baking.
Preheat oven to 375F/190C. Line pans with parchment paper.
Make the cinnamon-sugar mixture: In a small bowl, toss together sugar and cinnamon.
Shape the dough into balls, around 1.5 tablespoons each (use an ice-cream scoop or heaping tablespoon), roll them in the cinnamon-sugar mixture, and place on the cookie sheet. Using your hands or the bottom of a glass, very slightly flatten each cookie, leaving them thick. Bake for about 8-10 minutes, until cookies begin to brown at the edges but the center is still soft. Cookies will appear undone but will continue to bake on the warm baking sheet. Leave cookies to cool on baking sheet for 10 minutes, then gently transfer to a wire rack to cool completely.
Store cookies at room temperature in an airtight container for up to 3 days.Cookies can be frozen for up to 2 months.
Notes
*Cream of tartar is used in traditional snickerdoodle recipes and gives it the cookies a unique tangy taste and chewy texture. Still, you can substitute the cream of tartar AND the baking soda from the recipe and instead use 2 teaspoons of baking powder.
---
My Favorite Products