These versatile muffins have a delicate orange essence, making them perfect for add-ins such as chocolate chips, berries, and raisins.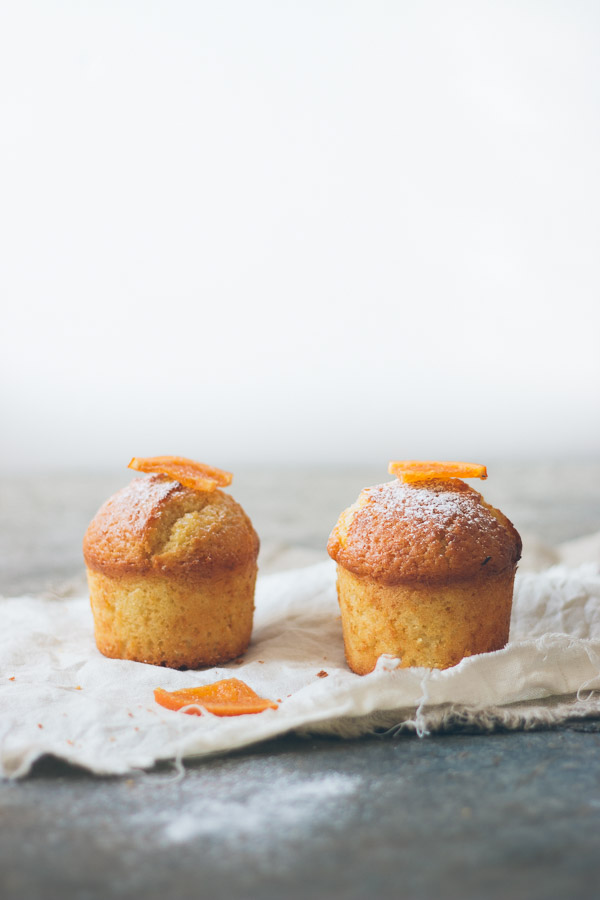 Lately I've gotten quite a few questions about my photography. For the longest time, I was frustrated with the quality of my pictures. I'd look at the beautiful photos other people took, and had no idea how to create the same atmosphere on my own. I read about a lot of techniques in books and on the internet, but it was all still hard to implement. It took me hours to shoot and edit, and was a true love-hate relationship.
Time after time, though, love won, and once I started to understand what I was actually doing, photography became one of my biggest passions. I write down all the little tricks and tips I learn along the way so that one day I can share all of them with you. For now, the best advice I can give you – even though I know it's annoying to hear – is that practice really is the key, and there are no shortcuts. Try looking at photos you love, then try to recreate them. Try shooting near different windows in your home and at different times of the day to find the best lighting. During this experience, you'll also develop your own niche and style.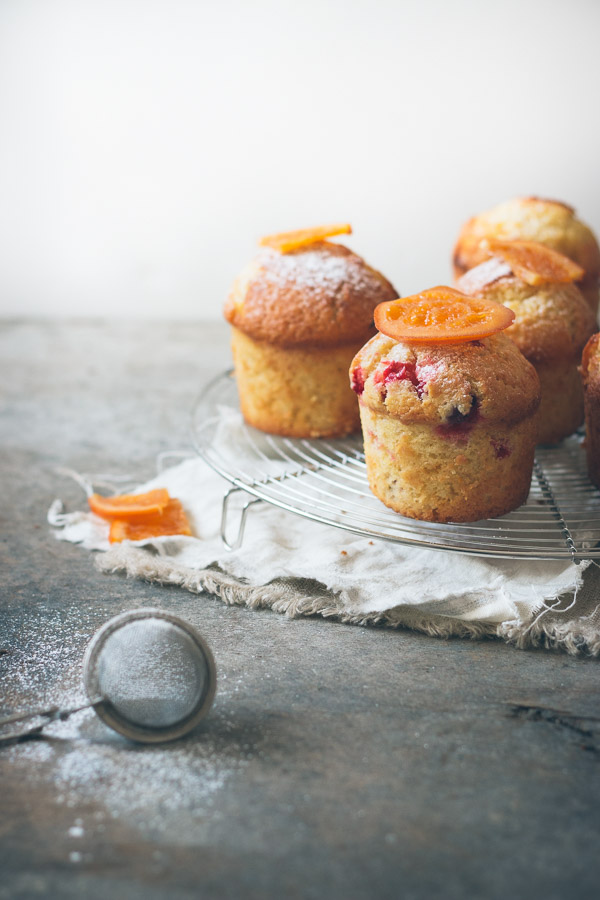 Since I feel that by now I know the basics of food photography, I wanted to go to the next level and take a short photography workshop. I've been hesitant for a while, not sure of when the time would be right, but last week I finally decided to go for it. Secretly, just meeting with a bunch of other food bloggers and photographers excites me just as much as the class itself, but I'll talk more about that when I actually start the workshop.
Let's talk orange muffins
The reason I love muffins so much is that they are easy and quick to make, and are a perfect pair to my morning (and afternoon and evening) coffee. I use the muffin method for this recipe, which means mixing dry ingredients in one bowl, wet ingredients in another bowl, then combining the two together. Easy! It's important to mix the batter as little as possible – just until all the ingredients are combined. That way, the muffins will have a tender crumb, and a soft, bread-like (but not dense) texture.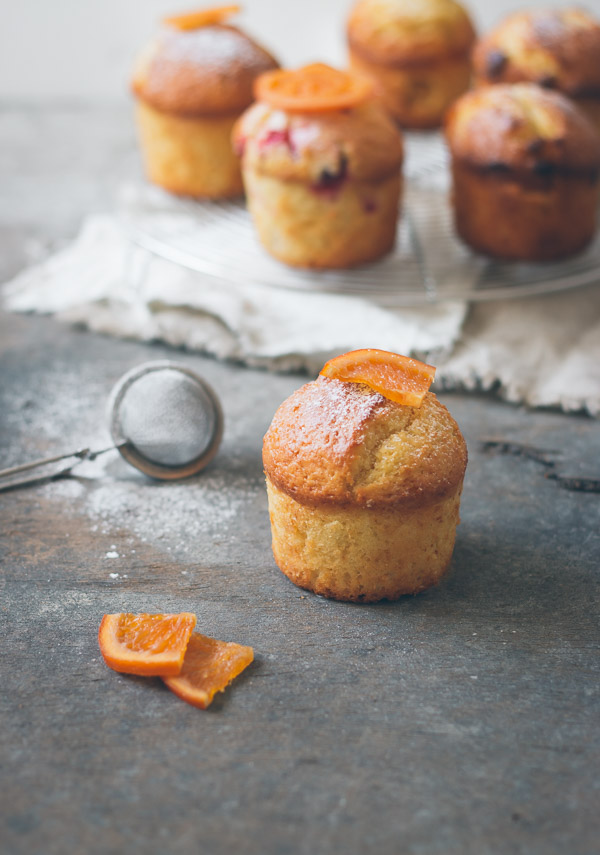 Orange flavor
When fresh, these muffins have a subtle orange taste. After a few hours or overnight, the flavor will be stronger. Because the orange flavor is only in the background, there are various wonderful add-ins that go well here such as chocolate chips, blueberries, fresh or dried cranberries, raspberries, raisins, or nuts.
Substitutions
The sour cream can be replaced with an equal amount of plain yogurt. Instead of both the sour cream and milk, you can use ½ cup buttermilk. If you want a stronger orange flavor, you can increase the orange juice and reduce the other dairies accordingly. While I prefer the flavor of butter in here, you can use oil instead, which will make the muffins even more moist and fluffy. I've also found that when using oil over butter, the muffins stay fresh for a day longer.
Sometimes I top the muffins with a white sugary glaze, which adds some additional orange flavor. Although I didn't add it this time, it's mentioned in the recipe, and I highly recommend it. It's one of those things that make a great thing even better.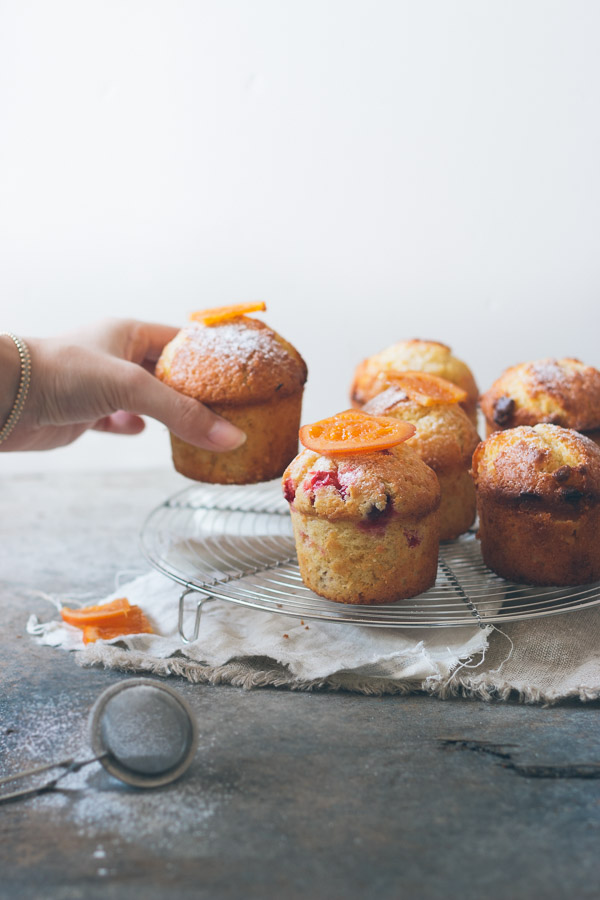 More orange recipes: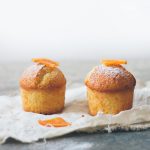 Orange Muffins
YIELD
12
standard-sized muffins
Ingredients
¾

cup

(150 g/5.3 oz.) granulated sugar

1

tablespoon

orange zest

1 ¾

cups

(250 g/8.8 oz.) all-purpose flour, sifted

2 ½

teaspoons

baking powder

¼

teaspoon

salt

2

large eggs

⅓

cup

(75 g) unsalted butter, melted and cooled, OR neutral oil such as canola

¼

cup

(60 ml) sour cream

¼

cup

(60 ml) whole milk

½

cup

(120 ml) freshly squeezed and strained orange juice

½

teaspoon

vanilla extract

1

cup

add-in of your choice: dark or white chocolate chips

, berries, raisins, nuts
Orange Drizzle Topping (optional):
½

cup

powdered sugar

1-2

tablespoons

orange juice
Instructions
Preheat oven to 190C/375F. Grease 12 muffin cups or line them with liner papers.

In a large bowl, toss together sugar and orange zest. Add flour, baking powder, and salt, and mix to combine. In another medium bowl, whisk eggs with melted butter, sour cream, milk, orange juice, and vanilla extract until well combined. Make a well in the dry ingredients and pour the wet ingredients into it, then stir with a wooden spoon or rubber spatula just until combined. Do not over mix. Fold in add-ins.

Divide batter evenly between muffin cups (almost all the way to the top). Bake for 15-20 minutes or until a toothpick inserted into the center of the muffin comes out clean. Allow to cool for 10 minutes, then remove muffins from the tin and transfer to a wire rack to cool completely.

To make the orange drizzle topping: In a small bowl, sift powdered sugar. Add orange juice, a bit at a time, and whisk until you get a thick yet pourable consistency. Once muffins have cooled, pour glaze over the tops using a tablespoon, letting it drizzle down the sides.

Muffins are best the same day they are made, but can be stored in an airtight container at room temperature for an additional day. Muffins can be frozen for up to 2 months.