This is a classic recipe for easy, rich and creamy Italian panna cotta. I make this every time I need an impressive, quick dessert!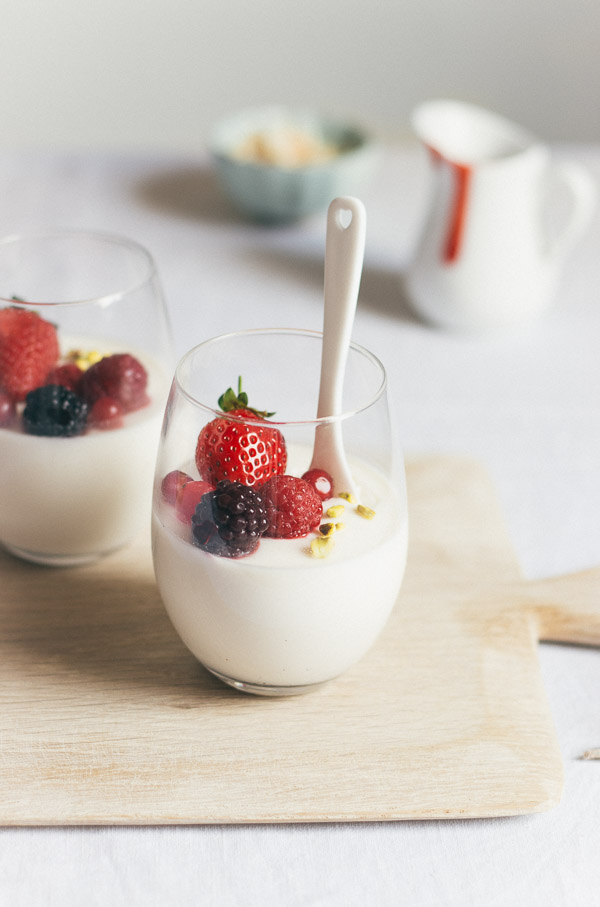 Here's a fact you may not know about me. When I quit my job in the cooperate world, I went on a journey to find myself (whatever that means) and started selling mini baked goods for events. It wasn't quite as glamorous as I had anticipated, but it paid the bills. Well, barely. With a tiny kitchen and fridge, mini desserts were all I could offer. While that seems so long ago now, there are a few things I remember vividly. One of them is how people went crazy over the mini panna cotta served in shot glasses and topped with berries, and since it was the easiest thing on my menu, I couldn't have been happier.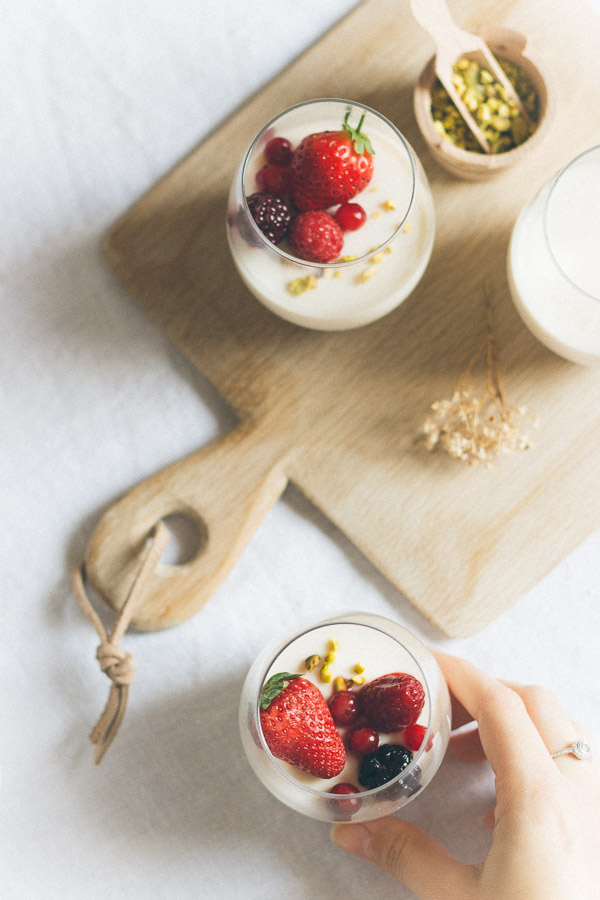 What is panna cotta?
Panna cotta means 'cooked cream' in Italian. It includes very few ingredients, and is basically a simple mixture of cream, sugar, and vanilla. Gelatin is added to set the mixture and create a custard-like consistency. The final product is rich and silky smooth. This is best classic panna cotta recipe I know! I've made it dozens of times. Despite the heavy cream, this dessert is perfect as a light not-too-sweet dessert after a heavy meal. If you wish to make an even lighter panna cotta, you can replace some of the heavy cream with a lighter cream or milk. I tried it that way a few times and it was still very much delicious.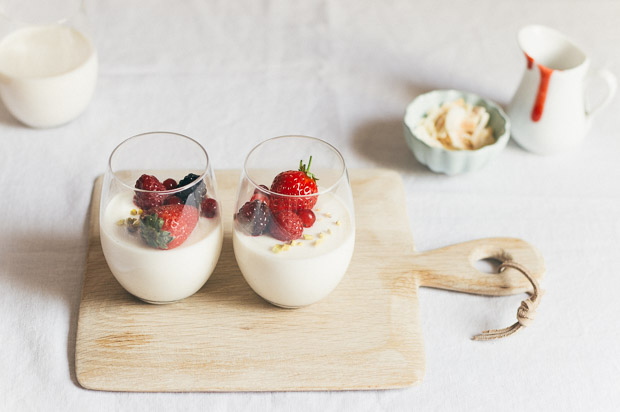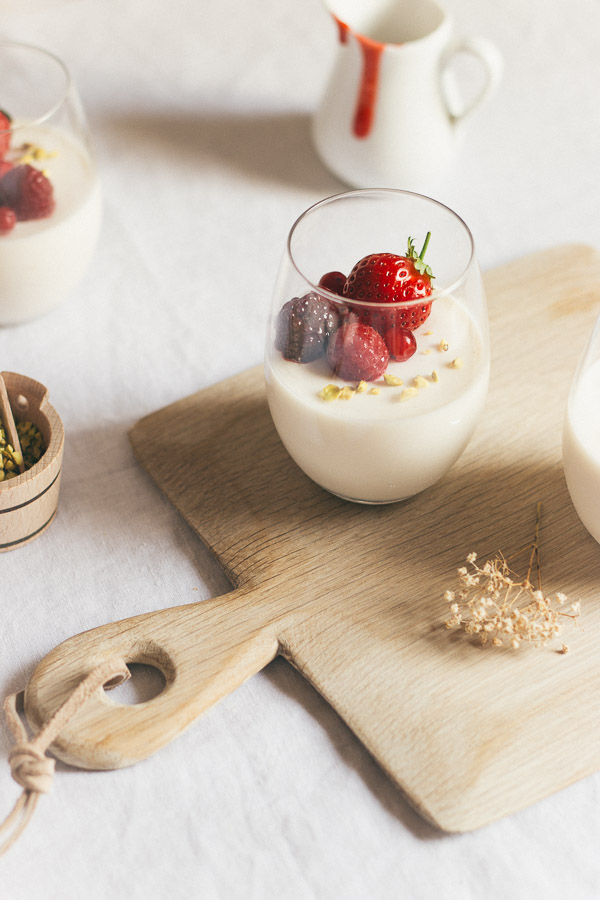 What is gelatin and what is it doing in my panna cotta?
I'm here to save you guys. There's no need to fear the word "gelatin". Just because it might be unfamiliar doesn't mean it's complicated – and it really isn't.
Gelatin is made of tiny granules that have no color or flavor, and is used as a thickening agent. Depending on your area, gelatin may be sold in boxes that contain 2 or more envelopes. One envelope usually contains 1/4 – 1/2 oz. (7-14g) of gelatin.
To use gelatin, we first sprinkle it over cold water (or another liquid) and let it sit for a few minutes to soften. In the meantime, we prepare our cream mixture by heating cream, sugar, and vanilla together in a saucepan until hot and the sugar is dissolved. Once hot, we add the softened gelatin and immediately whisk until smooth. Adding the gelatin to a hot mixture is what activates it. Make sure the mixture is completely smooth and that there are no little crystals remaining. If there are, bring the saucepan back to the stove and heat very gently without letting the mixture boil (this is very important!) until the gelatin is completely dissolved.
The gelatin can't be omitted from the recipe, because without it the panna cotta won't set. Panna cotta takes a minimum of 4 hours to set, but that depends on the size of your cups. If you use mini individual cups, it would set rather quickly.
Can you freeze panna cotta?
Yes, you can! It keeps well in the freezer. Leave it overnight in the fridge to thaw throughly before using.
Dress up your panna cotta!
You can top the panna cotta with berry sauce , caramel sauce, lemon curd, dark chocolate ganache, or white chocolate ganache. For a simple strawberry panna cotta, place strawberries with some powdered sugar in the food processor and process until smooth, then top your panna cotta (after it has set in the fridge) with the strawberry sauce and small pieces of fresh strawberries. This is my favorite version of panna cotta!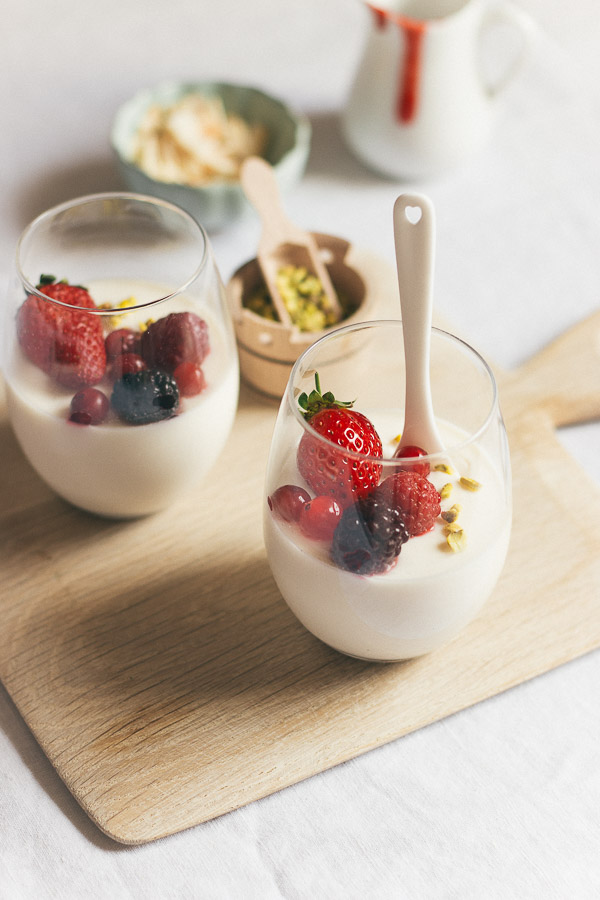 I love seeing you making my recipes! If you make this recipe, comment below or hashtag it #prettysimplesweet on Instagram or Facebook.
Click here to pin this recipe for later.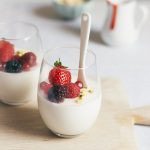 Panna Cotta
---
Ingredients
1/4 cup (60 ml) cold water or milk

2 1/4 teaspoons (7 g/0.25 oz.) unflavored powdered gelatin*

2 cups (480 ml) heavy cream

1/4 cup (50 g/1.8 oz.) granulated sugar

1/2 vanilla bean, split and seeded, or 1 teaspoon pure vanilla extract
Instructions
Place water in a small bowl and sprinkle gelatin over the surface in a single layer. Be sure not to pile it as that will prevent the crystals from dissolving properly. Let stand for 5-10 minutes to soften.

Meanwhile, in a medium saucepan, heat cream, sugar, vanilla pod, and vanilla seeds on medium heat and bring just to a boil until sugar dissolves. Remove from heat and discard vanilla bean. Stir in gelatin and immediately whisk until smooth and dissolved. If the gelatin hasn't fully dissolved, return the saucepan to the stove and heat gently over low heat. Stir constantly and don't let the mixture boil.

Pour cream into 4 individual serving dishes. Refrigerate for at least 2-4 hours, or until completely set.

Panna cotta can be covered with plastic wrap and refrigerated for up to 3 days.
Recipe Notes
* If using sheet gelatin, use the same weight (7g). Add the sheets to a bowl filled with 2 cups water. Let sit for 5-10 minutes, then remove the sheets and stir them into the hot panna cotta as directed in the recipe (you don't need to add it along with the water, such as in powdered gelatin - add the sheets only).