This is a classic recipe for easy, rich and creamy Italian panna cotta. I make this every time I need an impressive, quick dessert! Served in individual portions, you won't believe how simple this recipe is to make!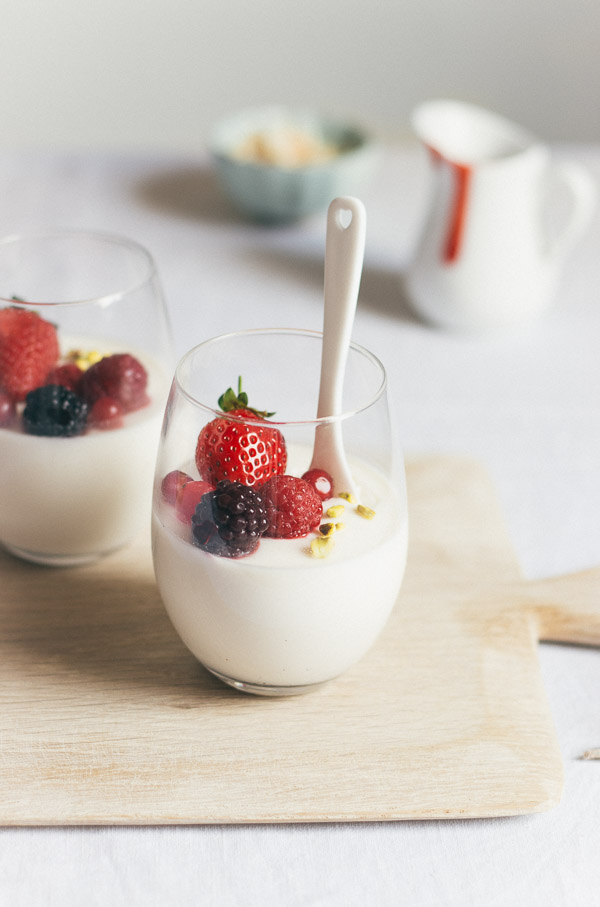 Here's a fact you may not know about me. When I quit my job in the cooperate world, I went on a journey to find myself (whatever that means) and started selling mini baked goods for events. It wasn't quite as glamorous as I had anticipated, but it paid the bills. Well, barely. With a tiny kitchen and fridge, mini desserts were all I could offer. While that seems so long ago now, there are a few things I remember vividly.
One of them is how people went crazy over the mini panna cotta served in shot glasses topped with berries. And since it was the easiest thing on my menu, I couldn't have been happier.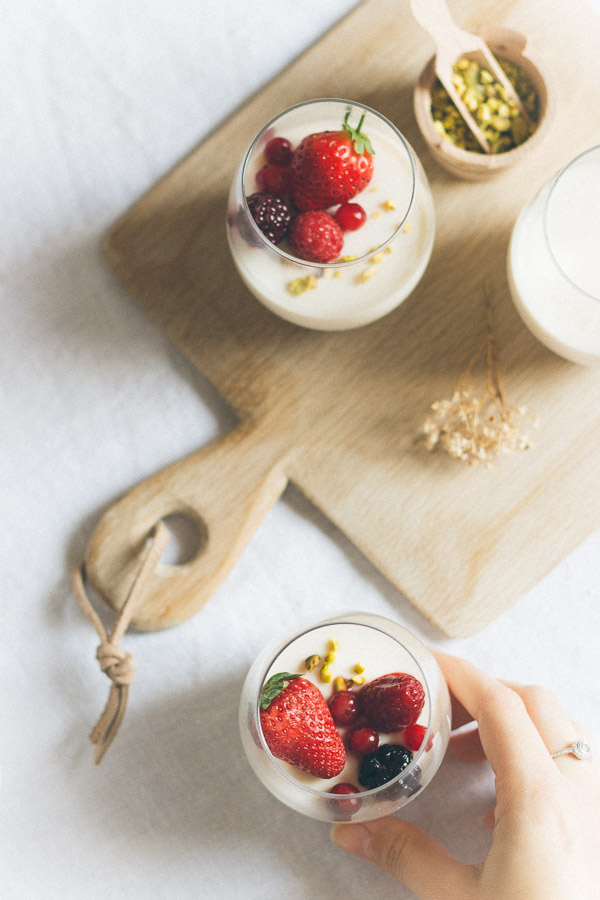 What is panna cotta?
Panna cotta means 'cooked cream' in Italian. It includes very few ingredients, and consists of a simple mixture of cream, sugar, and vanilla. Gelatin is added to set the mixture and create a custard-like consistency. The final product is rich and silky smooth.
This is best classic panna cotta recipe I know! I've made it dozens of times. Despite the heavy cream, this dessert is perfect as a light, not-too-sweet dessert after a heavy meal. And if you're new to baking with gelatin, don't fear! It's incredibly easy to work with and I'm going to walk you through every step of making this delicious panna cotta.
What is gelatin? Gelatin is a thickening agent made of tiny granules that have no color or flavor. Depending on where you're from, gelatin may be sold in boxes containing 2 or more envelopes. One envelope usually contains 1/4 – 1/2 oz. (7-14g) of gelatin.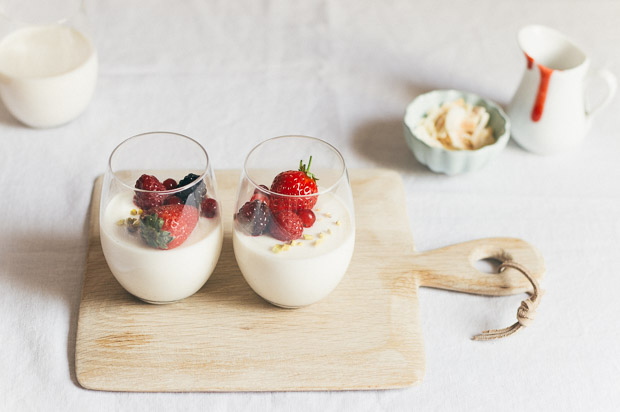 How to make panna cotta
Bloom the gelatin. Sprinkle the gelatin over the cold water or milk in a small mixing bowl and let it sit for a few minutes to gelatinize. You'll notice the mixture turns into something that looks like soft, rubbery Jello.
Make the cream mixture. While your gelatin is setting, heat the cream, sugar, and vanilla together in a saucepan until hot and you see a low boil. Make sure all the sugar is dissolved.
Add the gelatin. Turn off the heat and scrape out the softened gelatin into the hot cream mixture. Immediately whisk until smooth. Adding the gelatin to the hot mixture is what activates it. Make sure the mixture is completely smooth and that there are no little crystals remaining. If there are, bring the saucepan back to the stove and heat very gently without letting the mixture boil (this is very important!) until the gelatin is completely dissolved.
Portion, set, and serve. Pour your panna cotta mixture into individual ramekins and place in the refrigerator to set for a minimum of 4 hours. To serve, top with garnishes of your choice.
Garnishes for panna cotta
This vanilla panna cotta tastes exquisite on its own, but I also love serving it with different garnishes. Some of my favorites include:
Fresh berries
Toasted nuts and caramel sauce
Make a strawberry sauce: Place fresh or frozen strawberries with some powdered sugar in the food processor and process until smooth. Then, top your set panna cottas with the strawberry sauce and small pieces of fresh strawberries. This is my favorite version of panna cotta!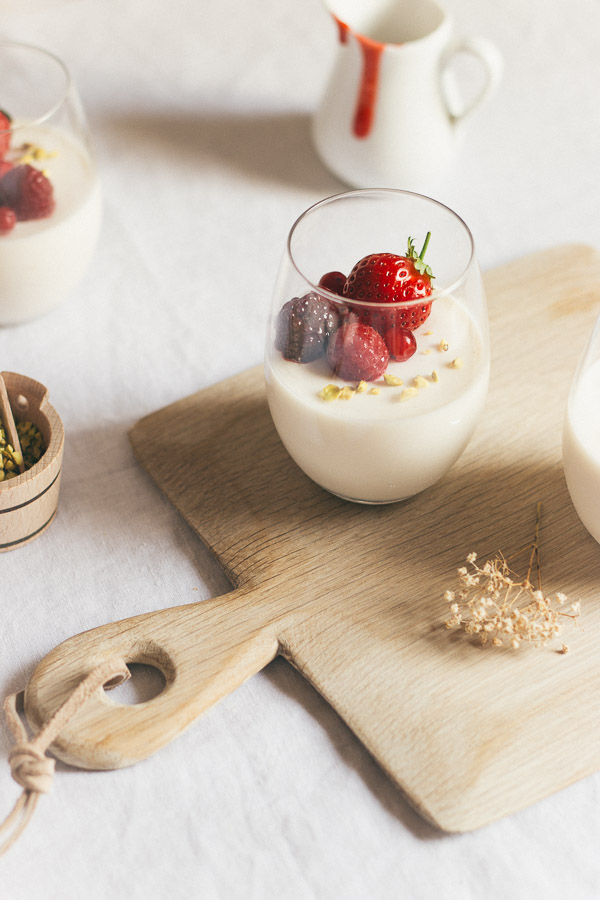 Tips for making perfect panna cotta
If you wish to make an even lighter panna cotta, you can replace some of the heavy cream with a lighter cream or milk.
Make sure all the gelatin is dissolved. Using a whisk to combine the gelatin with the heavy cream mixture is the best way to do this. If you notice any tiny gelatin clumps or crystals, place the mixture over a low heat and whisk until dissolved. But do not bring it back to a full boil.
Skip imitation vanilla and go for the real thing. Vanilla is only flavor ingredient we add to panna cotta, so use real vanilla extract, a scraped and seeded vanilla bean, or even vanilla paste in this recipe. Keep in mind that if you use a vanilla bean or vanilla paste, there will be specks of vanilla in your panna cotta. For this reason, I tend to stick with vanilla extract, but if you don't mind the flecks of vanilla (after all, they offer amazing flavor) then go for it!
Commonly asked questions
Can you freeze panna cotta?
Yes, you can! It keeps well in the freezer. Leave it overnight in the fridge to thaw thoroughly before eating.
How long does panna cotta stay good in the fridge?
Panna cotta will stay fresh for up to 3 days. Keep covered with plastic wrap.
Can I replace the heavy cream with milk?
If you want to reduce the amount of cream in the recipe, you can substitute it for a lighter cream or whole milk. However, I do recommend keeping at least 1/3 of the heavy cream to maintain the super creamy and rich texture and flavor and replacing the other 2/3 with a lighter option.
What happens if my panna cotta mixture accidentally boils after adding the gelatin?
Gelatin starts losing strength above 212°F/100°C, which is why you don't want your cream mixture to get too hot once it's added. If your mixture comes to a boil on accident, turn on the heat immediately. Most likely, it will still set if it didn't remain at this temperature for very long. However, if you find that your panna cotta does not set properly in the fridge after several hours, you'll need to start over.
Can I substitute sheet gelatin for powdered gelatin?
Yes. If using sheet gelatin, substitute 2 1/2 sheets of gelatin for the 1 1/4 teaspoons of powdered gelatin the recipe calls for. To bloom the gelatin, place the gelatin sheets in a bowl filled with 2 cups of cold water and let sit for 5-10 minutes. Remove the sheets once they are completely soft and gelatinous and whisk them into the hot panna cotta as directed in the recipe. Don't add them with the water they were soaking in – add the sheets only.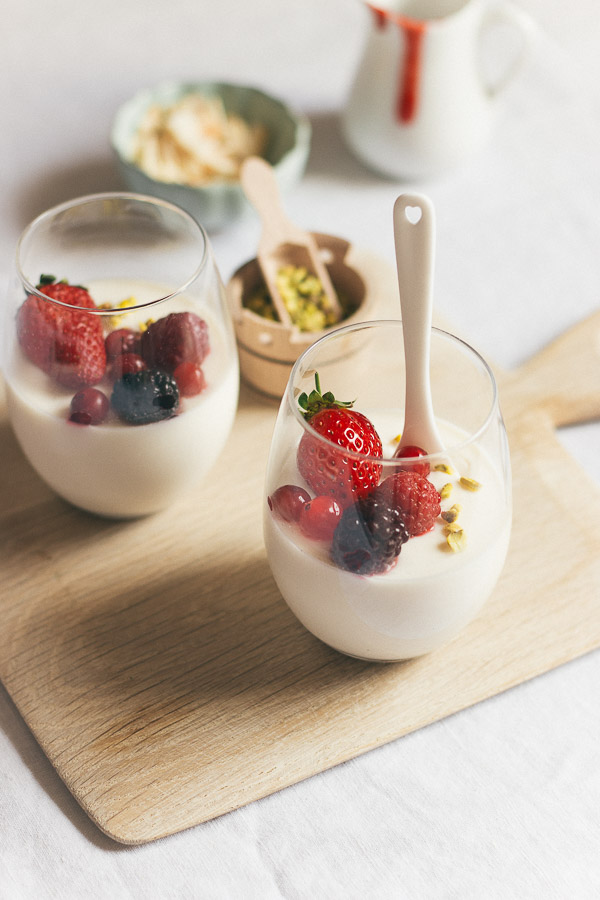 Click here to pin this recipe for later.
More of my favorite custard-based recipes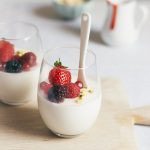 Panna Cotta
Rich and creamy vanilla panna cotta that is so simple to make!
---
Ingredients
1/4

cup

(60 ml) cold water or milk

1 1/4

teaspoons

(4g) unflavored powdered gelatin*

2

cups

(480 ml) heavy cream

1/4

cup

(50g) granulated sugar

1

teaspoon

pure vanilla extract or 1 vanilla bean, scraped and seeded
Instructions
Place water in a small mixing bowl and sprinkle gelatin over the surface in a single layer. Be sure not to pile it as that will prevent the crystals from dissolving properly. Let stand for 5-10 minutes to soften.

Meanwhile, in a medium saucepan, heat cream, sugar, vanilla extract or vanilla pod, sliced in half and with the seeds scraped out, on medium heat and bring just to a boil until sugar dissolves. Remove from heat and discard vanilla bean. Stir in gelatin and immediately whisk until smooth and dissolved. If the gelatin hasn't fully dissolved, return the saucepan to the stove and heat gently over low heat. Stir constantly and don't let the mixture boil.

Pour cream into 4 individual serving dishes. Refrigerate for at least 2-4 hours, or until completely set.

Panna cotta can be covered with plastic wrap and refrigerated for up to 3 days.
Recipe Notes
* If using sheet gelatin, substitute 2 1/2 sheets of gelatin for powdered. Add the sheets to a bowl filled with 2 cups cold water. Let sit for 5-10 minutes, then remove the sheets once they are completely soft and whisk them into the hot panna cotta as directed in the recipe (you don't need to add it along with the water, such as in powdered gelatin – add the sheets only).